I am quite sure that all the readers of this blog Gizmomaniacs.com are familiar about SEO. Those who have not yet got the chance to come through this term will definitely ask what SEO is.
Well, SEO which is the short form of Search Engine Optimization is process through which we optimize our website to increase the search engine visibility of the site, so that it can get traffic through search engines.
That's a simple laymen terminology for SEO. Let me give you an idea, if you go to Google and type a keyword or key phrases to search something, you might be able to see so many results. Ever realized how a website is coming at the top position over there?
Here is a snap of the keyword search "benefits of cell phones" and you will find that my website is coming at number 4 position over there: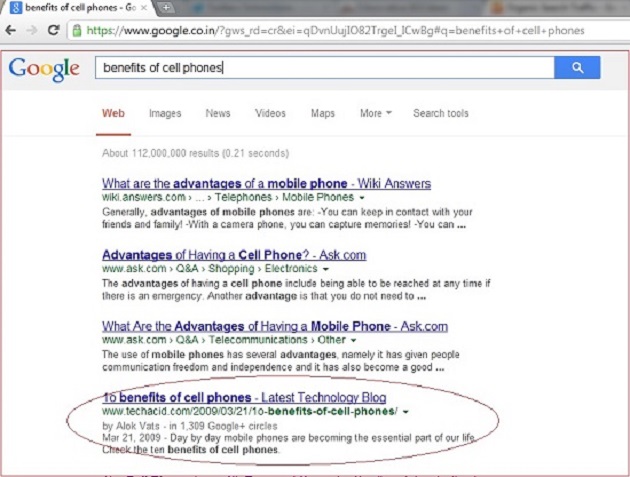 Now this is known as Search Engine Optimization, through which Google is giving the ranking for my website in the search of that particular keyword.
You might have realized that sometimes you are also able to see so many ads with your search results. Now that is an entirely different thing and most popularly known as PPC (pay per click) ads. For that you will have to pay to Google to display your ads, but bringing your website at organic or natural search results, you need not to pay anything to the search engine.
So as far as doing SEO is concerned, there are so many things associated with it, so many changes are also going on in SEO industry and credit of all those changes goes to Google only. Here in this blog post I am not going to elaborate so many things, but I just want to focus on only 3 innovative stuffs which might help you for SEO purposes.
Read on to know about 3 Innovative Stuffs for SEO
Blogging
Blogging, eventually became the most interesting and important stuff for the proper SEO of your website. If you really want to get the love from the search engine giants like Google, Yahoo, etc. then you are always required to do blogging, either on your own site or on other's as well.
When you are doing blogging on other's website, then it is known as Guest Blogging, which actually I am doing right now. As the owner of this site asked me to write a guest blog for this site, I really became too proud of myself.
Now, if you do own a business website, then also you need a blog on your site, or if you want to get links for your own website then guest blogging is the most authentic way to do so. Well, if you are also thinking guest blogging for link building purpose only, then reconsider your thought, as it is not the best tool for building link only, but it is mainly used to build authority, identity and branding of your website.
There are so many discussions about guest blogging going on in the webmaster world, and I am writing a book on how to do it in a proper manner as well. You can also stay in touch with me on my twitter handle to know more about it.
Blog about the services your website is offering, or products of your website, is really like by search engines. It's a good way to interact with your visitors as well, as you do so with a feedback system from offline shopping model.
Videos
Videos lately are becoming the most important part of online marketing, and to be very frank if you are looking to promote some online business, then you must need a channel in YouTube with so many interactive and quality videos about it.
It's a very good way to promote your stuffs and also like by search engines.
To be very frank, I really like this website Gizmomaniacs.com just because of their videos.
Social Media
Well, social media is the thing on which we SEO are relying too much these days. Reason being, we all are these days having accounts on sites like Facebook, Twitter, Pinterest, Google+, Instagram, etc. and all these sites are now the most important and essential part of our real and personal life. I am quite sure; you all too have this tendency of sharing a good picture taken through your smart phone, on twitter, or instagram, or on facebook.
Now the same concept is being crashed by search engines, they do believe that if you like a website, or web page, then you will definitely like it in facebook, or tweet about it, or share it on Google+. So if you are a human, and have accounts on these sites, and you do like a page and liking them or sharing them on those social media sites, you are actually helping that website or webpage in their SEO, as you are giving a vote to them.
These social media signals are highly considered by search engines these days.
So the bottom line of the post is that if we are considering SEO of our website, then we need to think about blogging, videos and we need to be active on social media websites.
[author image="http://gizmomaniacs.com/wp-content/uploads/2014/01/alok-vats.jpg" ]Friends, my name is Alok Vats, and I am the owner of the blogs like www.techacid.com and www.inewsindia.com. I am having more than nine years of experience in the field of online marketing and known for my positive attitude towards life, work and everything. I do believe in spreading smiles, and my blog I News India is having the same type of self-improvement blog along with some other life related things as well. I am quite sure you all will like both the blogs of mine. As I said above that I am writing the book on Guest Blogging, which is going to release very soon. To know more about that you can either stay in touch with me at my twitter handle: http://twitter.com/vatsalok
or you can also like the Facebook pages of my blogs at: https://www.facebook.com/TechAcidLTB https://www.facebook.com/INewsIndia
Don't hesitate in sharing your opinion about this blog of mine, you can also comment over here or you can also tweet me about your thoughts on this. [/author]