App review!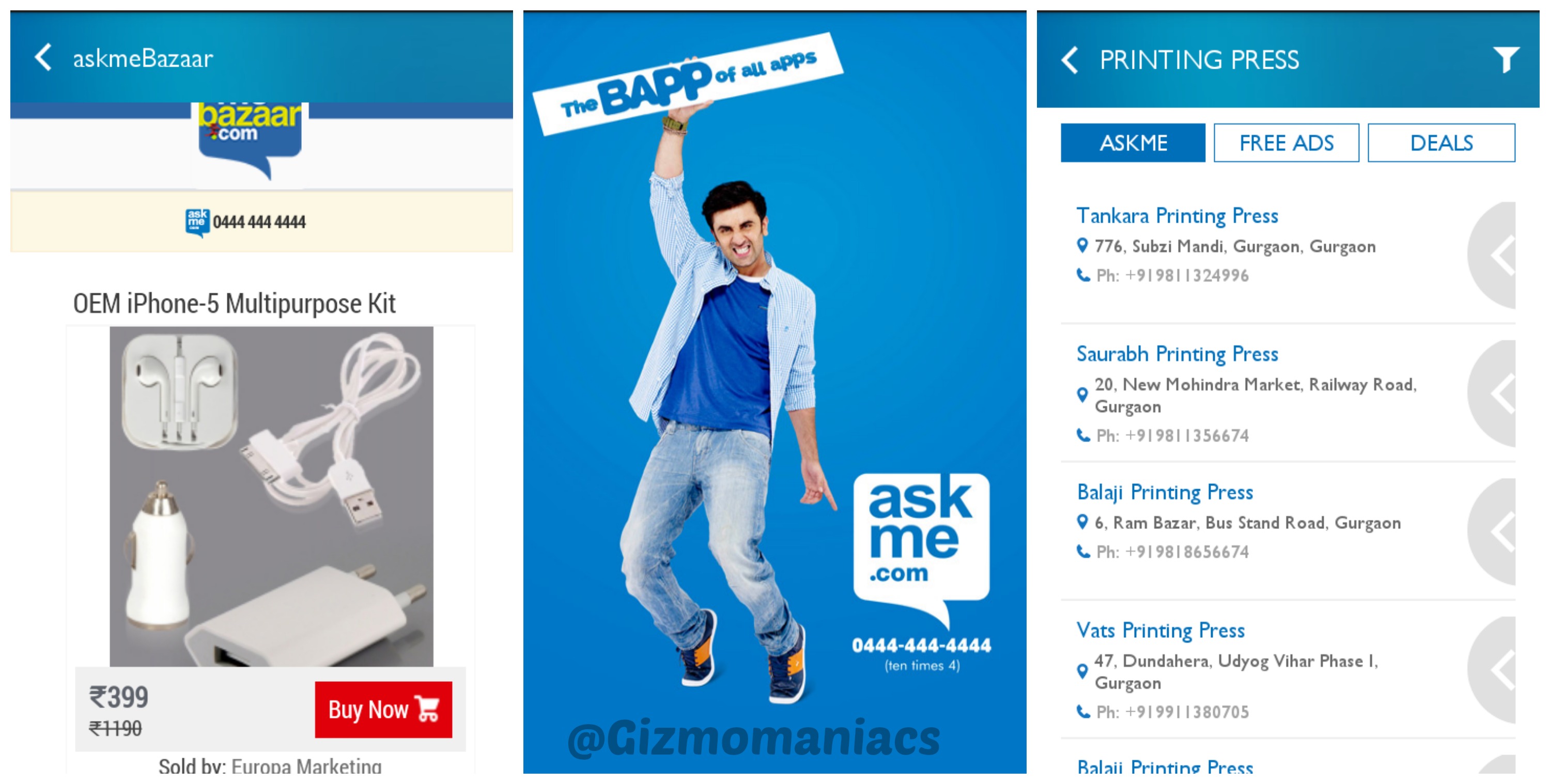 I was watching television and saw Ranbir Kapoor doing a commercial for Askme app with an interesting tagline – BAPP of All APPs. I just gave a random try on the app and it didn't disappoint me at all. The app is marketed by Getit Infoservices Pvt. Ltd and it has bagged Ranbir Kapoor as brand ambassador as mentioned earlier . The app combines classified deals, services, products, and information of any locality near you.If you want restaurants, doctors, transport, furniture or practically anything just ask the app it gets you the nearest, best options.
A detailed look on each of Askme features –
Local Search listing – Search for doctors, restaurants, furniture, and bakery input that in I'm looking for. It will use GPS and detects your location and accordingly gives you the nearest and best relevant options. A list of all relevant search categories will pop up in seconds.
Askme Bazaar – A list of local sellers where you can buy apparels, furniture, electronic items, accessories for men and women at discounted price. You can find the business product and services in the neighbourhood. Additionally you can always read the reviews of other users about those places so as to get the best option for yourself.
Post Deal/ad – You can place an ad, attach details about your old stuff to sell it by the help of the app. There are also listings by service providers for deal listing. You can also find free ads by clicking free ads tab which works for local classifieds.
Deals – This gives the hottest deals in your neighbourhood using GPS. It lets you to find discount in restaurants, spas, etc.
The app is simple and is easy to use. All app features are in homepage you can go directly go for deals, ads or search. The Askme is a light app so it doesn't take space on your smartphone and yes consumption of network data is less too. Askme is in its initial stage but I didn't find any flaws as such, it works properly and up to the mark, fulfilling all the expectations. Askme is a perfect app that works in new place like Genie, you just ask and it will tell you every possible thing you can grab. Honestly because of this app I uninstalled many apps that i kept especially for finding hotels which eat up lot of user memory and delivers much less useful data than Askme.
Some search where it works well is
Business near you
Classified search for jobs, hotels, mobile, real estate
Sharing business details with friends via SMS, Facebook, Twitter and emails
Askme has a large database and let the app grows more it will have more and more options for you. The Askme app also has a contact no. 0444 444 4444 for any help or assistance. I will strongly recommend this app to everyone as it will be savior for you anytime, it doesn't matter it is food or something else. Currently the app is available in Android and iOS platform. Hope it will be soon on Windows platform too. Find download link below for Android and iOS platform. Android  iOS