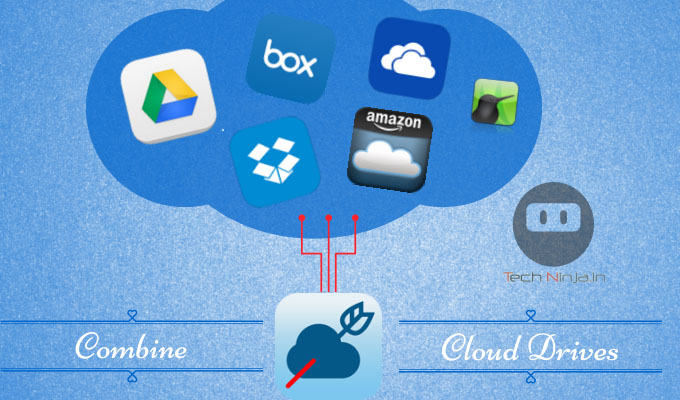 There are many cloud storage services available in the web world, namely Dropbox, Google Drive, Box, Sugar Sync, Amazon Cloud etc… Some Cloud Drives offer free storage plans such as
Drop Box – 2 GB (You can earn up to 16 GB by referral system… Create a Dropbox account here)
Google Drive – 15 GB
Box – 10 GB
Amazon Cloud – 5 GB
I know people who don't want to spend even a dime for the storage and obviously go for free plans with various cloud services. By combining all the free space above, you are getting around 32 GB.
A newly launched app, Cloud Goo allows you to combine multiple cloud storage accounts into a one big cloud drive. With this app installed on your android phone, you don't have to worry about space anymore  as you can access one big combined drive.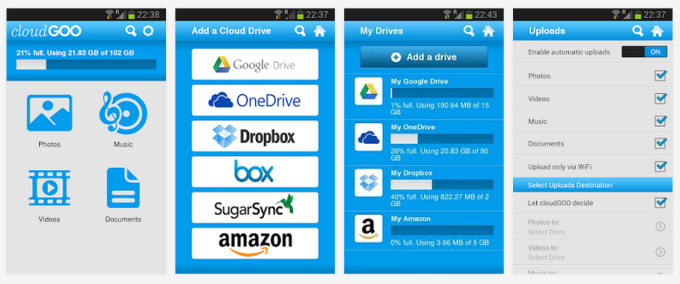 As you can see in the screenshot above, Cloud Goo Supports only 6 cloud services right now. But you can get enough space if we combine multiple cloud storage accounts. if we look at first screenshot you can see interface of one combined cloud drive consisting your  photos, videos, music, and documents. To get started, you must connect your cloud accounts, and the app shows you how much  space ( Free & Used) you have available on each cloud account. You can then tune your settings to specify which file types (e.g. photos, videos, documents, etc.) you want the app to back up, and whether those files should be backed only over Wi-Fi. You Can view your files by tapping big icons ( photos, videos, documents, etc)
This new service was launched by Berlin-based developer Jared Preston, who previously spent  few years in Seattle working for Microsoft.
"Theoretically, you could just hook up as many Google Drives, Dropbox, etc., as you wanted, to create a total space available for you to use. CloudGOO can then be set to 'automatic upload' and would just utilize the space available,You would not have to worry about managing the space, just using it."  says Preston. 
Here comes the big news for all of you, this App is NOT FREE. Currently, it is a paid app in Play Store. But,it is just 1 $ (59.88 INR in India).According to developer, iOS version is in queue. I think it is affordable, post your opinions in comments.

Google Play Store
[author image="https://secure.gravatar.com/avatar/0ca1ace710faa2f5e0fd6dd95bf56b3a" ]Nithesh Chakravarthi is an Engineer by education who is passionate about Blogging, Technology and Anime. He is currently managing his own blog (Tech Ninja) and pursuing his career in Networking field[/author]