Flipkart doing smart moves!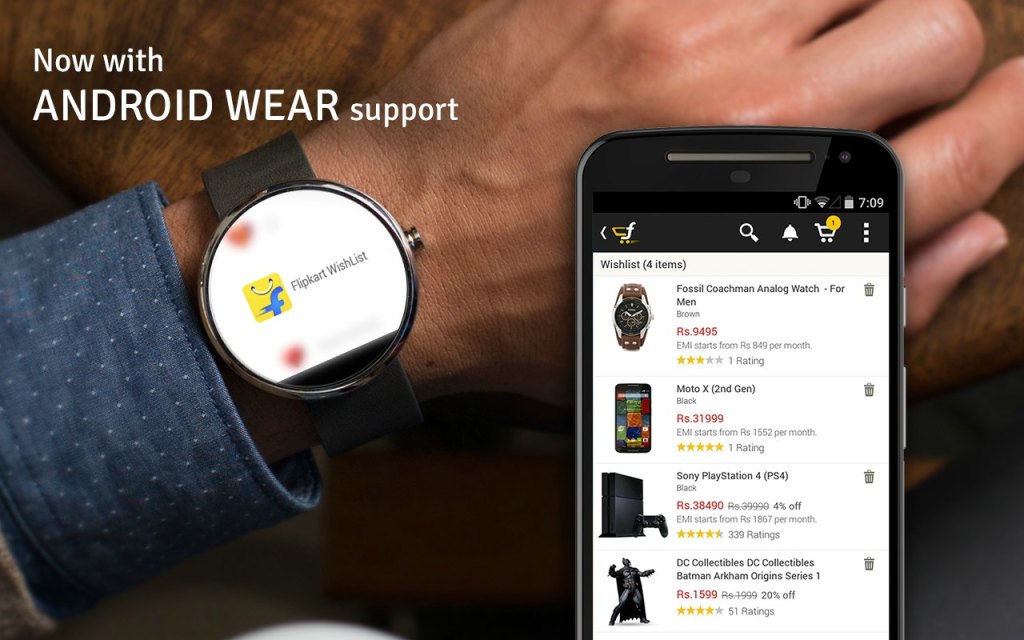 Flipkart, India's largest e commerce marketplace has boasted off its innovation again by launching an app completely dedicated only for the sale of Android wearables. The app will be compatible with all Android based smartwatches running on Android and sold exclusively on Flipkart. This will include smartwatches by Motorola, Martian and Garmin. Another significant feature with this update is that the app will now support push notifications from Flipkart on the gear. This, however is possible only if users enable push notifications to be viewed via the gear. Possible future updates of the app include accessing order tracking related information, price drop notification and personalized offer notification. The Moto 360, which is back in stocks, was launched last month on Flipkart. After the initial batch was swept off clean, Motorola and Flipkart released a fresh stock of the device, which is up for grabs till stocks last. Besides, Flipkart has also listed Google's latest flagship, Nexus 6, on the site.
The exciting features available in the latest app are
New User Interface and smooth experience
Happy shopping, no hassle returns,100% Buyer Protection as Flipkart has always been providing
Choice of Payments among Cash on Delivery, Credit/Debit Card, EMI, NetBanking, PayZippy
Look up products, categories or brands using text, voice or by barcode
Quickly switch between List, Grid and Full Screen views
Find what you want with the sort and multi-filter functions
Get access to personalized and exclusive app-only deals
Get notifications on personalized offers, price drops, order status, exclusive launches
Relevant recommendations based on your shopping history
Suggest links to interesting products on Facebook, Twitter, Google+
View products in great detail with the large, multi-perspective images
Save images to your phone or instantly share them with friends
One-touch Wishlist: Add products to your Flipkart Wishlist with just one tap
Some of the glitches we found in the app are that it doesn't offer complete shopping, all it shows is the wish list of users. But still even if the complete shopping is enabled, the shopping experience on such a tiny screen of the android wearbale won't be that comfortable to the users. Also Android wearables are still in the growth phase, so the number of users attracted by this app won't be sufficient enough, or up to the mark as expected by Flipkart. However being the very first app for dedicated to shopping the users under this segment will find the app pretty cool.
To use the Flipkart wishlist on wearable devices, please
Update the Flipkart application to the latest version from the app store
Connect your wearable device to the phone
Wishlist will automatically get installed on the wearable
Now time will prove if the early bird advantage gets Flipkart their desired results.