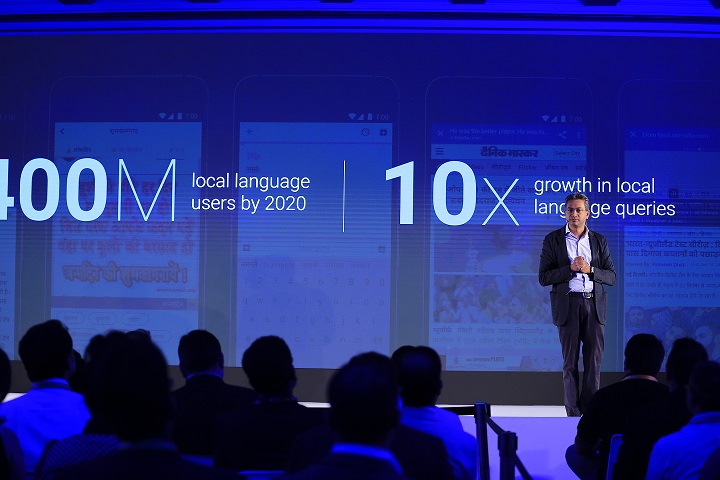 At Google for India event, company announced five new products for the users in India. This includes new products built for specifically for India like YouTube Go, the Google Assistant in Hindi inside messaging app Allo, faster browsing for Google Play on 2G connections, the Google Station Wi-Fi platform and new data-saving features in Google Chrome for mobile.
Caesar Sengupta, Vice-President, Next Billion Users, outlined the three areas where Google is working to provide a better and more inclusive online experience for users in India: Access (connecting people to the Internet), Platforms (letting people and developers share through and build upon the Internet), and Products (providing better and more relevant Google experiences for Indians).
Defining the strategy he said, "Our goal has not just been to help more Indians get online — but also to help Indians create the online experience they want; one that serves their needs and enables them to have an impact on the entire world. So we have been thinking about how to build products and services for this wave of new users — products that work for any level of connectivity, in local Indian languages, and across the devices that are most frequently used in India."
YouTube Go is a brand new app to help the next generation of users share and enjoy videos. It was designed and built from the ground up with insights from India, in order to bring the power of video to mobile users in a way that is more conscious of their data and connectivity, while still being locally relevant and social.They can also share videos easily with friends and family nearby, without using any data at all.
Google announced that a preview of the Google Assistant will be launched in Hindi by the end of 2016 inside the brand new Allo messaging app. The Assistant let's the users to have a conversation with Google, which can help them get things done.
Company announced a new Wi-Fi platform called Google Station. This new platform will work with partners to roll out Wi-Fi hot spots, offering carriers, system integrator , and venues an easy way to set up high-quality, user-friendly Wi-Fi.
Company announced fast browsing in Google Play for people on 2G and other low-bandwidth connections. And when a user on a low-bandwidth connection chooses to install an app, Play Store will offer a new "Wait for Wi-Fi" option where the app will only install when the phone next connects to Wi-Fi.
Chrome announced a group of tailored features for Chrome that make the web a better place for mobile users facing data constraints. Data Saver mode which reduces the amount of data Chrome uses on Android mobile devices, computers, and Chromebooks. It will now support MP4 videos, saving up to over two-thirds (67%) of video data. Chrome on Android will now also automatically optimize pages to their essentials when 2G-like networks are detected. These simplified pages load up to 2X faster, saving more than 90% of data usage.Chrome on Android's new download feature will now allow users to save web pages, videos, music, or pictures.