Lenovo recently took the wraps off their newest iteration of ThinkPad series at the ongoing Consumer Electronics Show (CES) 2019 held in Las Vegas. The company asserts the new ThinkPad X1 Carbon 7th Gen and ThinkPad X1 Yoga 4th Gen to be more powerful yet thinner and lighter than their predecessors.
X1 Carbon
Significant changes in X1 Carbon include a thickness of 14.95mm, weighing in at just 2.4 pounds. X1 comes with a larger 14-inch display with Dolby Atmos™ speaker system to deliver truly immersive sound worthy of a premium laptop. Battery lasts up to 15-Hours with moderate usage while LTE-A WAN facilitates huge file transfers. Lenovo offers two display choices, a new brighter 400 nit FHD display and a stunning 500 nit, 4K Dolby Vision™ panel.
X1 Yoga
The 4th generation of X1 series comes with precision-machined aluminium chassis with a thinner bezel and a less prominent footprint. X1 packs a premium keyboard, Dolby Atmos™ Speaker System, far-field mics, and an all-day battery life. It can be paired up with ThinkPad Mechanical Dock and ThinkPad Pen Pro to offer multiple mode inputs. Both laptop sports the latest 8th Gen Intel® Core™ processors.
Accessories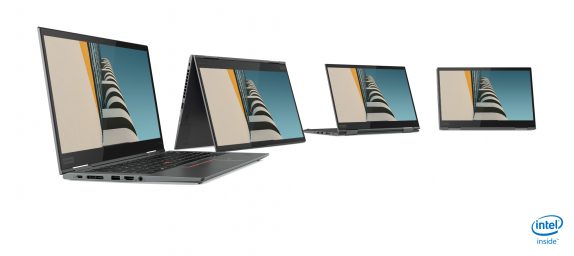 Lenovo also launched a host of new visual and peripheral solutions that complement their laptop ecosystem.
ThinkVision P44w
Bezels in a multi-display setup prove to be a deal breaker at times, Lenovo has managed to address this issue with the new ThinkVision P44w. The 43.4-inch display offers a massive 32:10 aspect ratio with a resolution of 3840×1200, giving a screen real-estate equivalent to two 24-inch 16:10 displays.
Lenovo Pro Stereo USB Headset
This headset with its active noise cancelling microphone turns any space into your personal conference room for your focused Skype meetings.
Lenovo VOIP 360 Camera speaker
Designed for portability, the speaker offers a real-time acoustic echo cancellation and background noise suppression, a 360-degree video capability combined with a four different display options can facilitate split-view, multi-user video meetings at the touch of a button.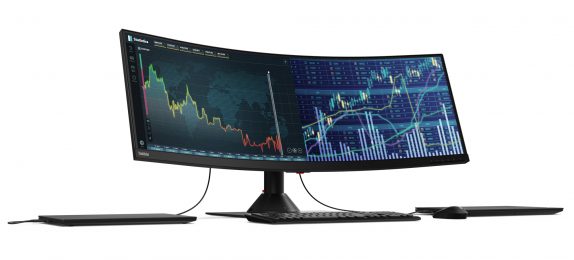 Lenovo 700 Ultraportable Bluetooth Speaker
Lenovo claims the ultraportable Bluetooth speaker to be world's thinnest, at just 11mm (0.43") thickness. It delivers crisp audio through four speaker setup for up to 8 hours. With quick charging (2 hours charge time) and simple touch controls for audio playback and VOIP, the ultraportable speaker also features USB-C connectivity and IPX2 splash-proof water resistance.
Lenovo Powered USB-C Hub
This Hub connects to the USB-C port to power and employs multiple ports for external drive use. The Integrated cable management solution proves to be neat and highly portable this time around.
Lenovo Commuter Backpack
Lenovo also launched a commuter backpack that weighs less than two pounds and with a large 25-litre capacity. It can easily pack a laptop up to 15.6-inch, with cables and accessories. It comes with a durable water-repellent finish, and features a security pocket to house valuable items.
Price and availability
ThinkPad X1 Carbon will be available from June 2019, with an expected starting price of $1709
ThinkPad X1 Yoga will be available from June 2019, with an expected starting price of $1929
ThinkVision P44w will be available from April 2019, with an expected starting price of $1299
ThinkPad Thunderbolt 3 Dock Gen 2 is available now at $319.99
Lenovo Pro Stereo USB Headset will be available in June from $149.99
Lenovo VOIP 360 Camera Speaker will be available in March from $249.99
Lenovo 700 Ultraportable Bluetooth Speaker will be available in April from $149.99
Lenovo Powered USB-C Hub will be available in January from $79.99