Lenovo comes with affordable Laptops!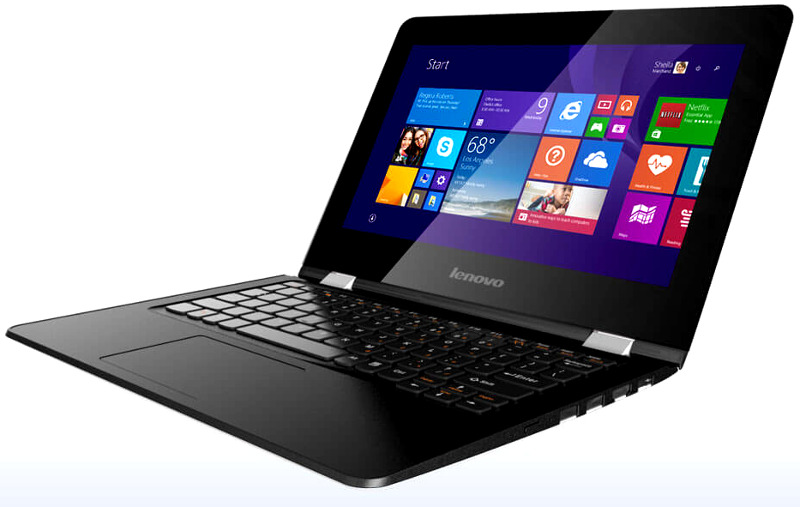 Lenovo India launched its four new laptop categories under Yoga family. All the laptop comes with Intel processor running on Windows 8.1 OS. All the laptop comes with four flexibility modes: Laptop, Stand, Tent, and Tablet.
Commenting on the launch, Ashok Nair, National Sales Director, Lenovo, said,
[notification type="notification_info" ]Globally we are the leaders in the consumer convertible PC space. We achieved this by constantly innovating and stretching the boundaries of what a PC stands for. The YOGA franchise is the representation of this consumer-centric design and engineering. We are happy to make the YOGA franchise, through this new line of products, accessible to a much wider audience.[/notification]
Price and Availability
Lenovo Yoga 300 – Rs. 30,490
Lenovo Yoga 500 – Rs. 57,990
Lenovo Yoga 3 (14) – Rs. 86,990
Lenovo Yoga 3 Pro – Rs. 1,14,990
The Lenovo Yoga Laptops will be available on Lenovo Exclusive stores across India and thedostore.com online.
Lenovo Yoga 300 (11 inch) specifications are
Processor: Intel Pentium N3540 Baytrail (2M Cache, up to 2.66 GHz)
GPU: Intel HD Graphics
Display: 11.6-inch 10-point multi-touch with 1366×768 pixels
RAM: 4GB DDR3
HDD: 500GB 7MM 5400RPM
Camera: Front HD 720p
OS: Windows 8.1
Connectivity: Wi-Fi 802.11 a/c, Bluetooth 4.0
Ports: 1 x USB 3.0, 2 x USB 2.0, 4-in-1 card reader. Audio combo jack, HDMI, RJ-45
Speakers: 2x 1.5W Stereo Speakers with Dolby Home Theater
Battery: 2 Cell 30wh
Lenovo Yoga 500 (14 inch) specifications are
Processor: Up to Intel Core i7-5500U (4M Cache, up to 3.00 GHz)
GPU: Intel HD Graphics or 2GB NVIDIA GeForce 940M
Display: 14-inch 10-point multi-touch with 1920×1080 pixels
RAM: 8GB DDR3
HDD: 1TB 7MM 5400RPM
Camera: Front HD 720p
OS: Windows 8.1
Keyboard: Backlit Accutype keyboard for immersive gaming experience
Connectivity: Wi-Fi 802.11 a/c, Bluetooth 4.0
Ports: 2xUSB 3.0, 1xUSB 2.0, 4-in-1 card reader, Audio combo jack, HDMI, RJ-45
Speakers: 2x 1.5W Stereo Speakers
Battery: 3 Cell 45WH
Lenovo Yoga 3 (14 inch) specifications are
Processor: Intel Core i7-5500U Processor (4M Cache, up to 3.00 GHz)
GPU: 2GB NVIDIA GeForce 940M
Display: 14.6-inch 10-point multi-touch IPS with 1920×1080 pixels
RAM: 8GB DDR3
HDD (SSD): 256GB SATA
Camera: Front D 720p
OS: Windows 8.1
Connectivity: Wi-Fi 802.11 a/c, Bluetooth 4.0
Ports: 2 x USB 3.0, 1 xUSB 2.0, 4-in-1 card reader, HDMI out, audio combo jack
Speakers: 2x 1.5W 1/8" Stereo Speakers
Battery: 4 Cell 45WH
Lenovo Yoga 3 Pro specifications are
Processor: Intel Core M-5Y71 (4M Cache, up to 2.90 GHz)
GPU: Intel HD graphics 5300
Display: 13.3-inch QHD+ 16:9 10-point multi-touch IPS with 3200×1800 pixels
RAM: 8GB DDR3
HDD (SSD): 512GB SATA SSD
Camera: Front HD 720p
OS: Windows 8.1
Connectivity: Wi-Fi 802.11 a/c, Bluetooth 4.0
Ports: 2 x USB 3.0, 1 xUSB 2.0, 4-in-1 card reader, HDMI out, audio combo jack
Speaker: 2 x 1/8"  1.5 W Stereo Speakers
Battery: 4 Cell 44.8WH