The tablet that can replace laptop!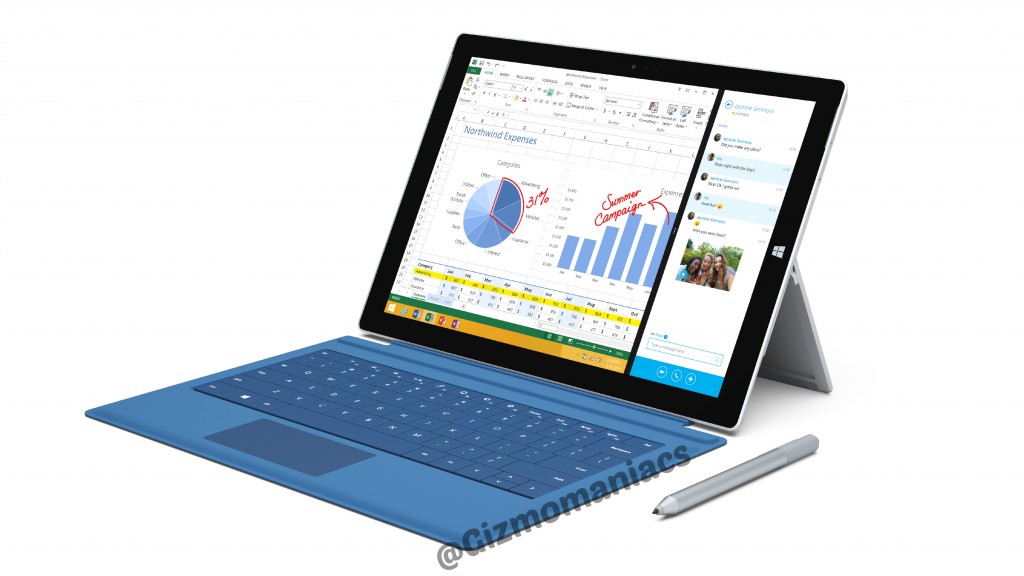 Microsoft Surface Pro 3 has 12-inch ClearType Full HD display with 2160×1440 pixels resolution. It has 4th-generation Intel® Core™ i5-4300U (1.6 GHz with Intel® Turbo Boost up to 2.90 GHz) CPU and Intel® HD Graphics 4400 GPU. The memory options are 64 GB, 128 GB, 256 GB, 512 GB internal and RAM 4GB or 8GB – dual-channel LPDDR3. The rear camera is 5 megapixel. The connectivity options are Wi-Fi 802.11ac/802.11 a/b/g/n, Bluetooth 4.0. It has up to nine hours of Web-browsing battery life and 36W power supply.
The cover comes with improved trackpad. It has magnetic attachment and a remote trigger that directly lets you take notes on OneNote. It also has stylus with aluminium finish and better weight distribution. The pricing starts at $799.
Microsoft Surface Pro 3 specifications are
CPU: 4th-generation Intel® Core™ i5-4300U (1.6 GHz with Intel® Turbo Boost up to 2.90 GHz)
GPU: Intel® HD Graphics 4400
Display: 12-inch ClearType Full HD with 2160×1440 pixels
Memory: 64 GB, 128 GB, 256 GB, 512 GB internal
RAM: 4GB or 8GB – dual-channel LPDDR3
Cameras: Rear 5MP and 1080p HD front facing recording
Connectivity: Wi-Fi 802.11ac/802.11 a/b/g/n, Bluetooth 4.0
Battery  –  Up to nine hours of Web-browsing battery life, Power supply 36W power supply (including 5W USB for accessory charging)