What is Moto G new version loaded with?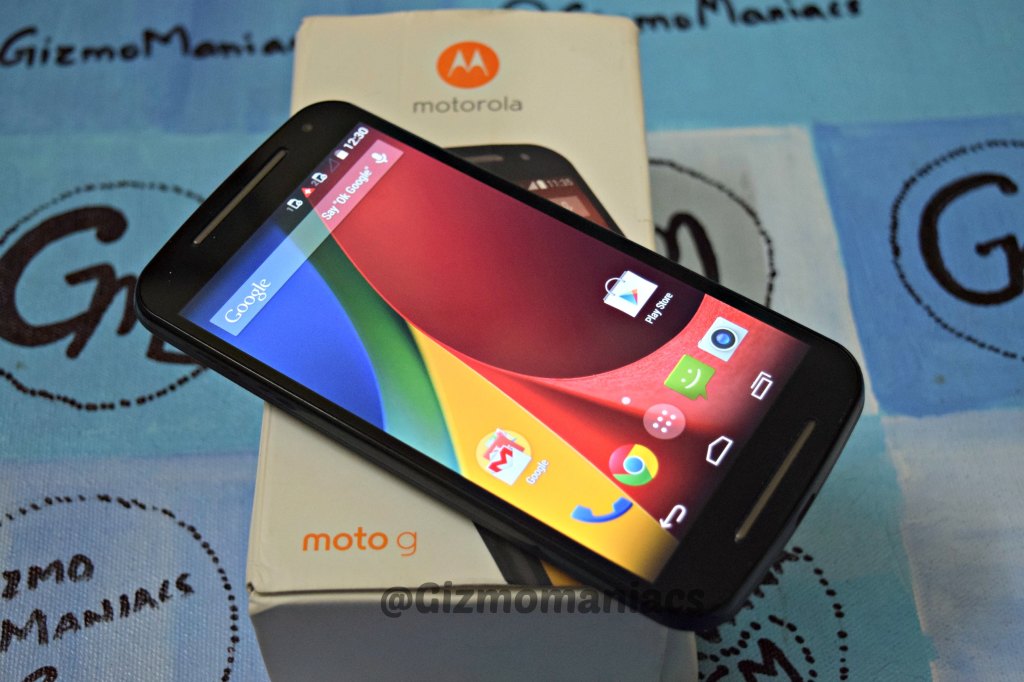 Motorola's Moto G (2nd Gen) is the revamped version of previous model Moto G. The Moto G is available in White and Black colour for Rs. 12,999 on Flipkart exclusively. The Moto G (2nd Gen) is better than previous version as earlier model has 8GB and 16GB storage option with no expandable memory, better camera than earlier version.
Design
The Moto G (2nd Gen) is lighter, thinner, and has a big screen of 5-inch which earlier was 4.5-inch. It has front camera at the top and dual front speakers in top and bottom which looks like metallic touch. It has Gorilla Glass 3 protection in front and in the back it has polycarbonate body which can pop up to insert SIM, and microSD card. On the right side it has power button and volume rocker keys, whereas in Top it got 3.5mm earphone port. The micro USB charging port is at the bottom.
Hardware and Software
The smartphone comes with same Qualcomm Snapdragon 400 with 1.2GHz processor and Adreno 305 GPU. The screen size is bigger as it is now 5-inch display with 1280×720 pixels which makes the screen sharper. It comes with 1GB RAM and 16GB model which can be expandable.
The Moto G (2nd Gen) comes with no bloat wares, so what you want just install. It comes with latest version of Android 4.4.4 KitKat running with no skin on top it. It gives pure stock experience and also has Stock Android Keyboard too. Motorola is providing some of its own apps like Alert, Assist, Help and Migrate. The Alert helps to send GPS location to the contacts. The Assist helps to avoid interruptions during meeting and sleep as filtering the call and SMS. The Help is for knowing your Moto G better and Migrate is for those who are switching from another Android or iPhone to copy data.
It comes with Google Apps like Maps. Play Games, Hangout, Gmail, Play Music, Maps, Quickoffice, Voice Search, Play Newsstand, Drive and YouTube. The company has already promised that it will provide the new coming version of Android 5.0 Lollipop to Moto G (2nd Gen).
Camera
Moto G (2nd Gen) camera got a lot improvement from the previous model as rear one was 5MP now it is 8MP and front camera was 1.3MP now it is 2MP which is decent. The video recording is still stuck at 720p. Photos taken by the smartphone is good, sharp, high quality, in low light and day light both performs well. Video recording was not a bad idea thought 1080p would be better option.
Performance
The Antutu benchmark of Moto G (2nd Gen) is 17987 which is decent. The Quadrant benchmark of smartphone is 8922 which is not bad. It has battery life of 7 hours while playing a video. The smartphone can play 1080p video easily. It is little bit hard to view in direct sunlight but clarity of the smartphone is good with better viewing angles. Better graphics games runs smoothly on the smartphone.
Gizmo Verdict
Moto G (2nd Gen) is a good smartphone with solid build quality and better hardware than previous edition. It doesn't have any bloat wares and micro USB cable is not given the company. Moto G (2nd Gen) with price tag of Rs. 12,999 it is one of the good options to buy. Check the video review of Moto G (2nd Gen).