In the current scenario, Sony is leading the Mirrorless Camera market with its top-end Sony A7RIII and A7III Cameras. Recently Nikon has announced its first Full Frame Mirrorless Cameras under Z-series that are supposed to compete against the likes of Sony Mirrorless family. The Z-series, for now, includes the Z7 and Z6 Cameras. Nikon has taken a step forward by launching them to the Indian market. So without wasting a moment let's know more about them.
Nikon Z6 and Z7 looks almost identical and shares a lot of things inside out. Z7 is the superior of the two and they both are the first Full Frame Mirrorless Cameras from the house of Nikon. Z7 features a mammoth 45.7 Megapixel sensor whereas the Z6 features a 24.5 Megapixel sensor. The professional Z7 has 493 focus points and an ISO range of 64-25600 while on Z6, 273 focus points are available with an ISO range of 100-51200. Both cameras carry an all-new Z-mount but a user can still use those old F-mount lenses by simply putting a lens adapter.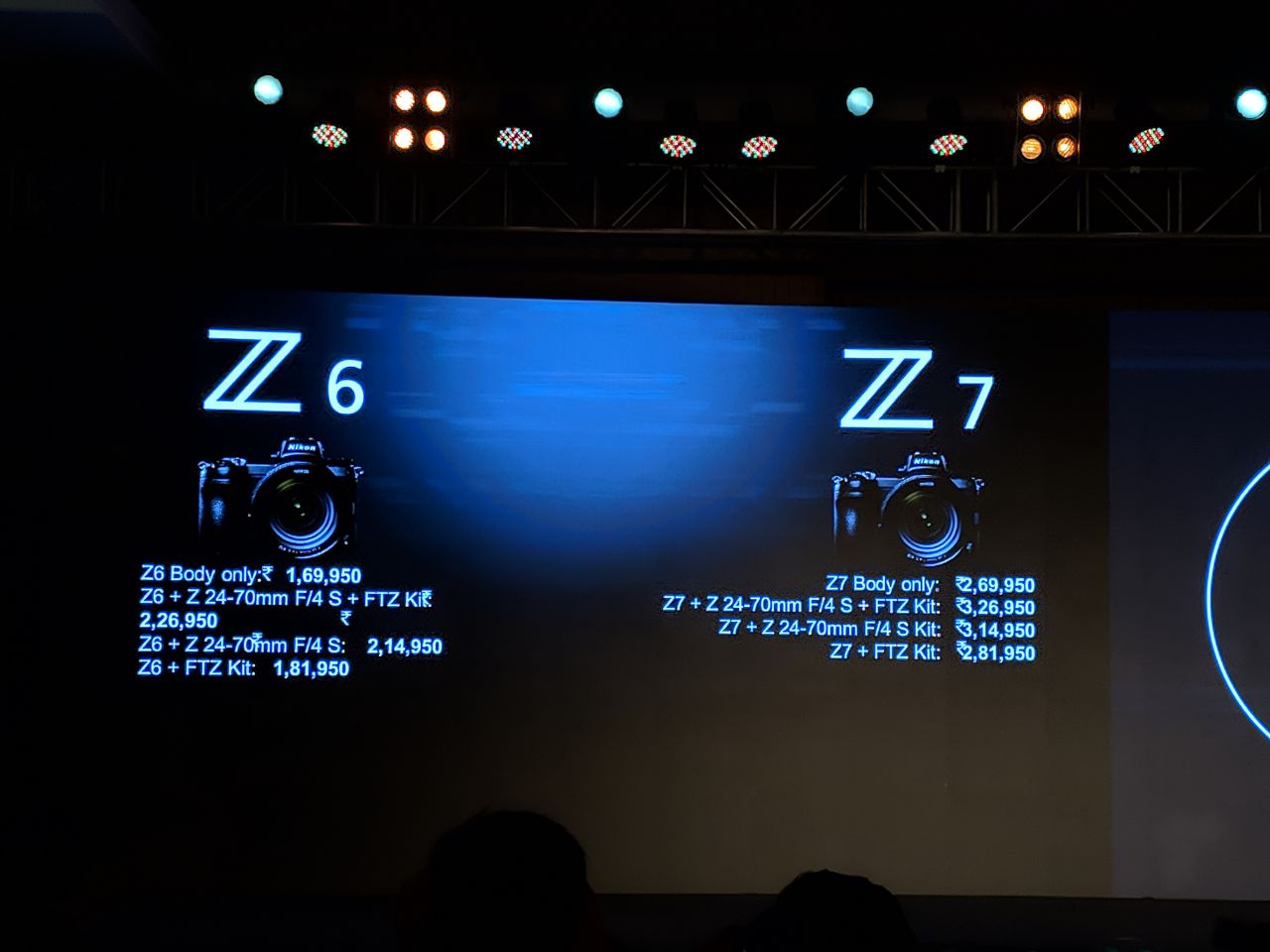 These are among the few cameras that features an in-body 5-Axis Image Stabilization. Both cameras offer Hybrid-AF system which works great in all situations. Nikon Z-series has weather sealed design for a robust experience. Z6 and Z7 both offers a 3.69 million-dot OLED electronic viewfinder with 100% frame coverage. The two also have a 3.2(inch) 2.1 million-dot tilting touchscreen LCD with 170-degree viewing angle. Both cameras have Wi-Fi and Bluetooth inbuilt for sharing. They can take 4K footage up to 30fps where 1080P videos can be recorded up to 120fps.
Pricing Nikon Z6:
Z6 Body only: INR 1,69,950
Z6 + Z 24-70mm f/4 S + FTZ Kit: INR 2,26,950
Z6 + Z 34-70mm f/4 S: INR 2,14,950
Z6 + FTZ Kit: INR 1,81,950
Pricing Nikon Z7:
Z7 Body only: INR 2,69,950
Z7 + Z 24-70mm f/4 S + FTZ Kit: INR 3,26,950
Z7 + Z 24-70mm f/4 S Kit: INR 3,14,950
Z7 + FTZ Kit: INR 2,81,950