In the phablet war nokia's warrior infact a bandit!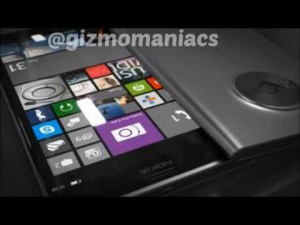 The giant 6 inch Lumia 1520 (codenamed Bandit) smartphone/tablet hybrid from the Finnish manufacturer (or Microsoft :P) is expected to hit the markets in the fourth quarter of this year as rumours suggest. Nokia has yet to confirm about its upcoming phablet. Nokia is expected to unveil the device at an event at the end of September.
Rumours suggest that the huge 6 inch display will sport a 1080p display with a ton of live tiles on the screen. The huge display exhibits 6 small live tiles in a row up from 4 in the existing Windows phones so far. It will sport a 20 MPix primary shooter with Next Gen PureView Camera Technology and will be able to click lytro Series images with multiple focus points. Under the polycarbonate hood it will feature a Qualcomm Snapdragon quad-core processor. It will run on Windows Phone 8 GDR3 and will also comprise of Qi wireless charging. Microsoft is already on work to improve the battery efficiency for the 1080p display. The expected price of the phablet is around $650.
Nokia is pushing hard in the smartphones category. The Fins are still making very fine handsets and we expect nothing less from the Nokia Lumia 1520.
Nokia Lumia 1520 – Expected specs 
Processor: Qualcomm Snapdragon 800 quad-core
Screen:  6″ inch full-HD (1080p)
Display: AMOLED PureMotion
Camera: Rear 20-megapixel
 OS: Windows 8 with GDR3 Update
Next Gen PureView Camera Technology
Body: Polycarbonate
lytro Series images with multiple focus points
Extra column of Live Tiles on your start screen, rotation locking, driving mode, and some minor UI modifications.