Once a household name for a cell phone, with more than 50% market share in 2007, Nokia was a force to be reckoned with. However, failing to embrace the changing trend, made it stumble upon some evident pitfalls which plummeted its market share to a mere 3% in 2013. Eventually, Nokia decided to bid adieu to Symbian OS and adopt the Microsoft Windows mobile platform instead. What Nokia failed to realize back then was that windows OS lacked the ace cards the rivals had, like the Android OS – with its High Customizability and iOS – with its flawless ecosystem. HMD Global a two-year-old startup bought the brand rights and patents from Microsoft in a hope to revitalize the Nokia brand back from its ashes.
The Nokia 7.1 is the mid-range offering from the company, tugged right between the Nokia 6.1 and Nokia 8.1 and coming in at Rs.19999, this sure charges a hefty sum for a Zeiss-powered lens and Pure Display screen. With some clever bits and pieces to its advantage this mid-range contender packs some punch, but does it justifies the cost it bears? Let's find out!
Stupendous Design and Display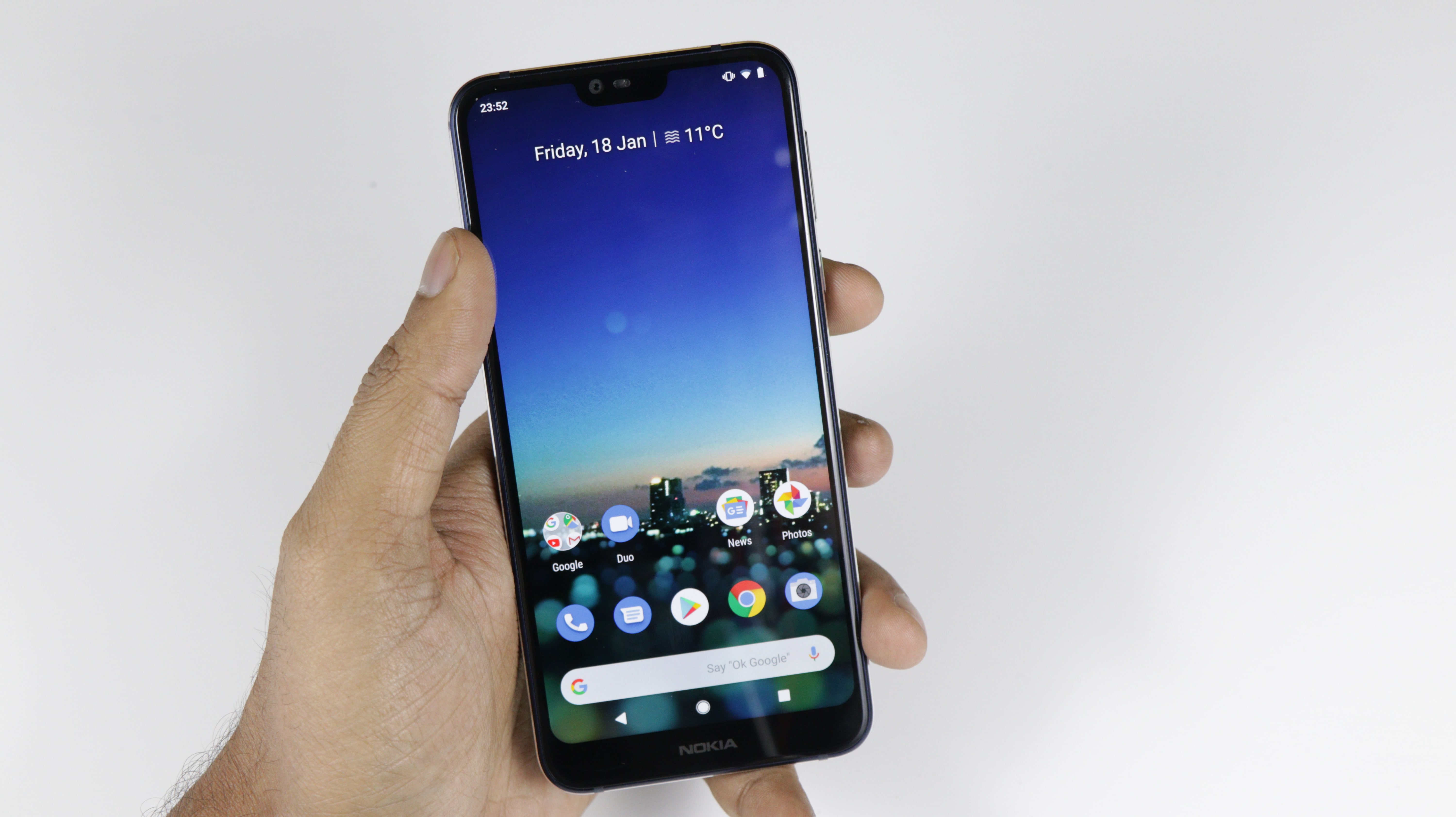 As soon as you pull the Nokia 7.1 out of the box, the build quality blows you away with its polished sides and chamfered edges chiselled out of a block of 6000 series aluminium. A sleek body with 2.5D Gorilla Glass 3 protection is a reminiscence of iPhone 5 like body. The frame looks stunning with smooth rounded corners and buttons that offer solid tactile feedback. The 7.1 entails a hybrid dual sim on the left and houses a single bottom firing speaker. Back shelters a dual camera setup with Zeiss logo engraved below the primary sensor and a fingerprint sensor that sits below.
Nokia 7.1 comes with a great 5.84-inch 2220 x 1080 notched display, but it won`t depict a truly borderless epitome, thanks to its thick bottom bezel. The reason this device dictates an exorbitant price tag is the HMD Pure Display technology. This technology enables the device to upscale SDR content to HDR using a 16-bit engine in real-time. What it does is, it helps the screen render bright and punchy colors. The display was truly immersive, with its vibrant colors, accurate color gamut, and sharp contrast levels. HDR content looked awesome with great outdoor visibility.
Running on top is Android 8.1 Oreo right out-of-the-box with a promised 2 year worth of updates and security patches. Snapdragon 636 processor coupled with a 4GB of Ram powers this device which seems a let-down considering the price point, but let me tell you the real world performance is smooth and consistent. Other than the slight stutter while running through some intensive apps in the background the experience was buttery smooth. Games ran without any struggle, albeit at medium settings. Benchmark scores were acceptable with 1355 and 5012 in the single and multi-core test on Geekbench.
Epic Image Quality!
Nokia 7.1 comes with a dual 12MP (f/1.8) + 5MP (f/2.4) camera setup which comes with Zeiss optics and electronic image stabilization. On the front, it packs an 8MP (f/2.0) fixed focus camera with an 84-degree field of view. The quality of images was remarkable, with sharp and detailed shots across all lighting conditions. The images were true to life than the Nokia 8.1 which was quite impressive. Shutter response was fast and colors came out to be rich with a spot-on contrast level.
Night shots were a bit dull and lacked the accurate edge detection we were looking for. The shots came out mushy and we were left wanting for more. The build in Pro mode offers manual control over the ISO and shutter speed giving you better overall shots. Our most favorite feature was the Auto HDR mode which evidently captured all the details and rendered the actual color gamut. Camera module at the rear is capable of 4K video recording while the front maxes out at 1080p. Video quality was good with electronic image stabilization doing its work to keep the shots balanced.
All things considered, it won`t stand a chance against the flagship rivals but is very much in the ballpark of the OnePlus 6T which is commendable. I'd say, Job well done! – Nokia.
Moderate Battery
The Nokia 7.1 comes with the same battery pack that powers the Nokia 6.1 Plus and Nokia 5.1 Plus which is a big let-down. Nokia claims the 3,060mAh battery should last beyond a day worth of average use age. In all Nokia 7.1 manages to provide you with 12 hours of heavy and moderate use, as found in our in house testing. A combination of optimum power management, adaptive battery, and a light UI makes up for the added hour worth of screen on time on battery saving mode. The 18W wall adapter that comes in the box can charge the battery in under 2 hours.
Gizmo Verdict
At 19k, Nokia 7.1 directly competes with the Poco F1 which has become the yardstick for the premium mid-tier smartphone. Poco F1 is a great device which offers raw performance, but then, there's a lot more to a smartphone than the processing power. Essentially solid build, smooth UI, adequate processing power, good camera, and an all-day battery is what that makes up for an awesome smartphone. It really needs to blend in with your life and suffice your essential needs, Nokia 7.1 does that with its HDR10 compliant display, splendid camera and flawless design, which makes it a great overall device.