What is Oppo?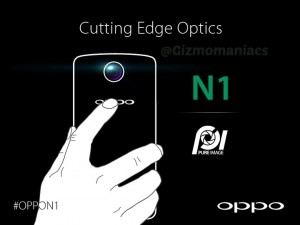 Oppo is now launching a new N lens smartphone name N1 there are rumors about the device size and specifications so Oppo has released a look via official twitter and G+ page by a post  "Expect Big Things on September 23 #OppoN1"and confirmed the screen size of 5.9 inch diagonally.
Oppo expects that Oppo N1 will bring revolution in smartphone camera this smartphone comes with interchangeable lenses, the small one may support 10x zoom and slightly larger one is of 15x. Camera of this phone is expected to be 12 or 13 megapixels.
A possible new specification added is an additional touch panel on its back. We have seen this arrangement in LG G2 which comes with rear buttons but here we experience a touch sensitive area to control the device.
Oppo hasn't specified what more features included in this device. They recently announced the R819 smartphone on basis of which we are guessing specs for  Oppo N1. This device might run on Qualcomm's Snapdragon 800 processor.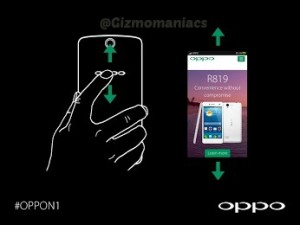 Expected Specifications*
Processor: Qualcomm Snapdragon 800 processor 1.3GHz Quad core
Display: 5.9-inch 1080P
RAM: 2GB
Memory: 16GB or 32GB Internal, support for expendable memory microSD
Camera: Interchangeable N-lens with 10x/15x
Battery: 2500 mAH   
Screen: Rear Touch Panel
*Specifications may change as this is expected specs.