Samsung gives cooling solutions that are energy efficient, high performance, optimise space!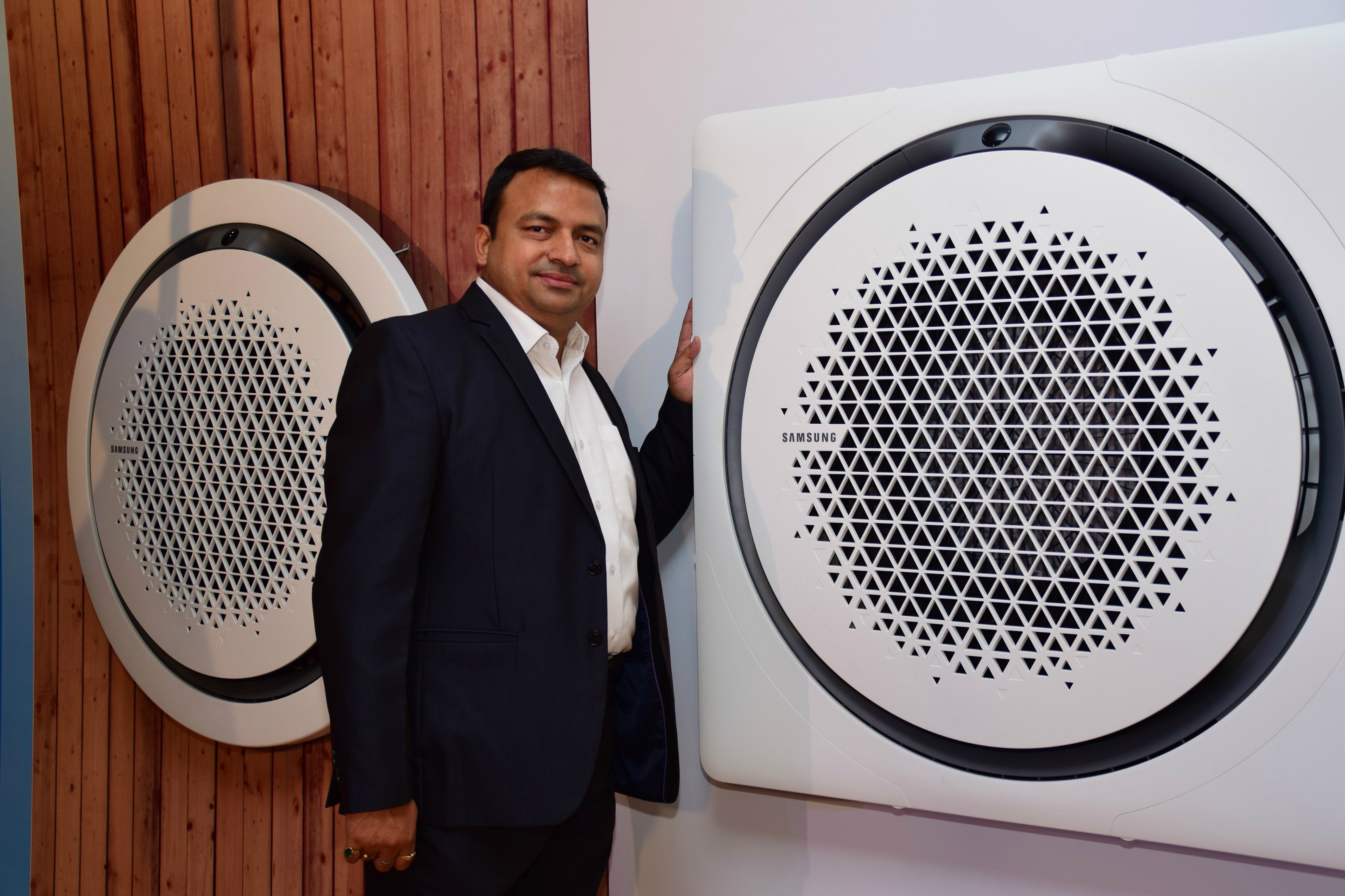 Samsung India Electronics announced the 4 new products which includes the new 360 Cassette AC, 30 HP Super DVM, 14 HP Side Discharge DVM Eco and DVM Chiller. This will boost energy efficiency, performance, balance ecosystem and effective cooling.
Mr. Vipin Agrawal, Director System A/C Business, Samsung India Electronics, said,
[notification type="notification_info" ]"Samsung will continue to achieve positive growth for the air solution business, by providing our customers with innovative products and solutions that will help them discover a world of possibilities for their businesses." "At Samsung, we're focused on helping businesses and our customers with cost effective and energy efficient products.
At Samsung we are passionate about constantly evolving our technology to offer the best products, services and experience to our customers. The products that we are launching today will offer the best user experience possible."[/notification]
Samsung's New 360 Cassette Design
Samsung's new 360 Cassette with a new design and transform air flow with uniform air cooling experience. It gives powerful performance, complete horizontal flow, generating layers of chilled air. It gives circular air waves which controls the room temperature with full 360 direction.
It can be fitted in the ceiling or can be left exposed according to the choice of customer. The users have the option of a wheel dial remote controller with a dedicated button for comfort cooling. It also features with of Samsung Virus Doctor kit can eliminate dust, airborne contaminants, allergens, bacteria and viruses.
VRF: Samsung 30HP Super DVM S
Samsung's new Super Digital Variable Multi (DVM) air conditioner which delivers better performance, efficiency and reliability. It comes with ew Super Inverter Scroll Compressor with flash injection technology with an optimized bypass valve to increase capacity by 29 percent.
The Samsung 30HP Super DVM S has innovative leak detection system which begins an active pump down process to store as refrigerant and close all valves and isolate the unit. Due to optimized refrigerant control it delivers efficiency rate of 10% and airflow rate increase in 17% as it has new oval shaped diffuser.
The DVM S Eco 14HP: Samsung's new side discharge VRF unit
The DVM S Eco 14HP is a new side discharge VRF air conditioner which can deliver single unit solution for apartments and office buildings. It is made to reduce the cost of multiple units used for multiple buildings. It improves performance by 20% and increase airflow by 10% compared to standard side discharge VRF units. It comes with better coverage of extended piping length of up to 160 meters and an installation height of up to 50 meters.  
DVM Chiller : Energy Efficient 
The new DVM Chiller is every efficient and packed power in small unit. It follows the EU regulations on F-Gas levels and the increased demand for a water-source HVAC. It has BLDC Inverter Scroll Compressor with Flash Injection technology that allows 75% of heating capacity at temperatures as low -20°C and greater energy efficiency.The Chillers reduces annual utility costs by 36% to 50% when compared with competitors.