Let me introduce you to Samsung Galaxy NX!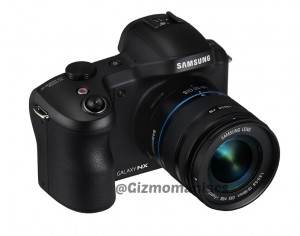 Samsung Galaxy NX is a successor of Galaxy Camera, it will be launch in October in USA. It is one of the best gadgets that all geeks want to have, it will be expensive and would take lot bucks for point-and-shoot camera.
Samsung putting a price tag of $1599.99 for the body (with no lens) or $1699.99 with a standard of 18-55mm lens kit.
Galaxy NX have 20.3MP APS-C sensor with a 1/6000 second shutter speed and up to ISO 25600 sensitivity. You can upgrade proper lens for Samsung's NX lenses to get more variety in your shooting.
Screen is 4.8-inch LCD with a quad core processor, 2GB of RAM, 16GB memory, expandable to 64GB, 4360mAh battery and Android 4.2 Jelly Bean with Touchwiz UI, which gives you a lot of options to share your photos. Due to high pricing we are not sure it will be a popular device or not, but it will definitely grab attention of Android Fans.
Samsung Galaxy NX Specifications
Following are the various technical specifications of the Samsung Galaxy NX Camera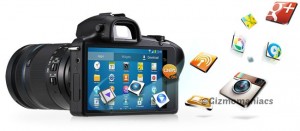 Camera: 20.3MP APS-C CMOS with Flash
Processor: Quad-core
Chipset: Pega-Q + DRIMe4 + MDM9215(XMM6360)
Display: 4.8" HD scLCD, 0.46" SVGA EVF
Memory: 16GB Internal / Expandable upto  64GB Micro SD
Battery: 4360mAh