New printing monsters by Samsung!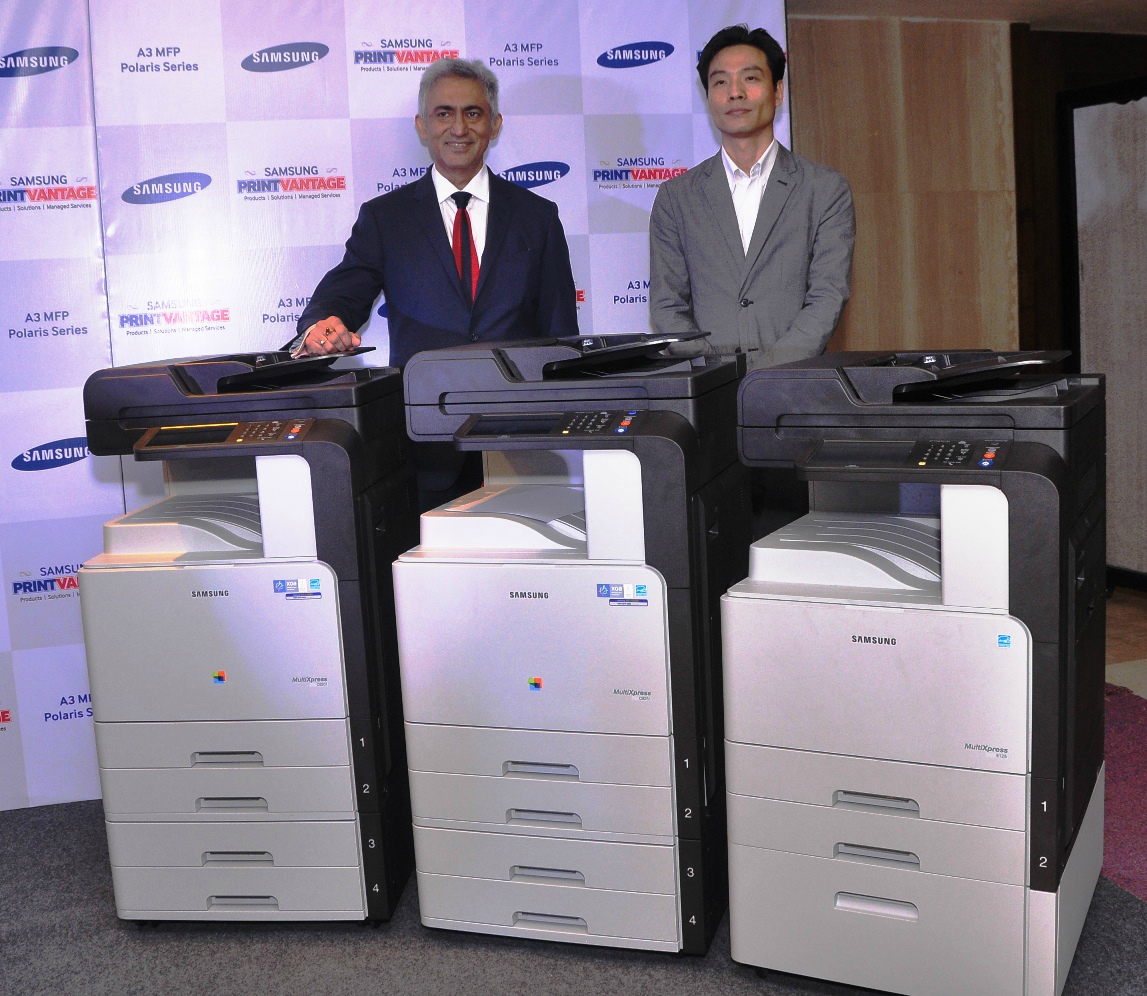 Samsung Electronics Co. Ltd, launch CLX-9200 Series A3 color MFP & SCX-8100 Series Mono MFP which is combination of cutting edge compact design with powerful performance and robust for businesses.
These smallest A3 MFP in its class, the CLX-9200 Series has been specifically designed for small and medium size businesses. The MPF come with World's first all-in-one board comes with 1GHz Dual Core CPU for processing speed and great printing speed. The ReCP image enhancing technology with real 1,200×1,200 dpi to deliver significantly sharper and more vivid images for optimum print results.
Both MFP are of just 560x600x844.3 mm allowing for easy delivery and installation, combined with Advanced solutions which will provide easy fleet and workflow management to enhance business capabilities. The devices flaunt a clean and ergonomic design with features ensuring easy usability and functionality while being consistently reliable and suitable for any work space.
Vipin Tuteja, Vice President, Enterprise Business Division, Samsung India Electronics, said
[notification type="notification_info" ]"These new MFP are the one stop printing solution to the ever changing needs of the small and medium businesses in India. We want to enhance our customers' user experience by developing products with superior performance in the most compact form. With the new range of MFP we wish to continue our tradition of offering best in class products to our customers."[/notification]
Key Features of these printers are
World's First for Performance and Reliability: The CLX-9200 & SCX- 8128 Series devices have been equipped with Samsung's latest 1GHz Dual Core CPU for up to 1.5 times faster processing than conventional 1GHz CPU devices, delivering maximum productivity.
Exceptional Color Quality and Image Clarity: A new Polymerized toner co-developed with Samsung Fine Chemicals delivers exceptionally sharp image quality for optimum print results with offers crisper and more vivid print and scan results, color edges and text/graphic clarity.
Tough Installation? Not with Samsung A3 MFP: Not only compact in size but also in weight, but blending naturally into any office space. The pre-installed DADF also enables a shorter overall installation time.
Advanced Solutions for Businesses: Samsung's new SmarThru™ solution integrates documents into a digital workflow for faster, more cost-efficient processing and more accurate electronic archiving, indexing and file searching. SmarThru also simplifies information sharing across different departments through the direct application on fax, FTP, print, E-mail and Microsoft SharePoint.
Ergonomic Design with Simple, Intuitive Interfaces: space efficient as possible while delivering a clean, streamlined look. Samsung has pioneered an eye-catching design that physically separates the printer interface and storage system to optimize each usage.
Lower Maintenance Cost: a Separated toner, OPC drums and developer unit reduce overall maintenance costs. The interchangeable OPC drum enables businesses to reduce unnecessary inventory as there is no more need to separately purchase different drums for each colour.
Model

Color

MultiXpress C9201NA

MultiXpress C9251NA

Mono

 

MultiXpress 8128NA

Function

Print, Scan, Copy, Fax (opt)

Speed

20 ppm

25 ppm

28 ppm

Scan

45ipm @300dpi

Print Resolution

Up to Real 1200 x 1200 dpi

Up to 9600×600 dpi effective

(600 x 600 x 4 bit)

FCOT

CLX-9201 : 7.9/9.6 sec

CLX-9251 : 7.5/8.5 sec

SCX-8128 : 5.7 sec

CPU

1GHz Dual Core

Toner

15,000/20,000 (C/M)

25,000

Drum

50,000

100,000

Developer Unit

300,000

300,000

Option

Job Separator, Inner Finisher,

Dual Cassette Feeder, Stand,

Fax Kit, Working Table (for Card Reader)
Pricing and availability: The CLX-9200 Series A3 color MFP are available at price range from Rs. 2,30,000 to Rs. 2,90,000. SCX-8128 Mono A3 MFP is available at Rs. 16,000.