Samsung Digital Academy will train youth to create innovative solutions for next-generation digital ecosystems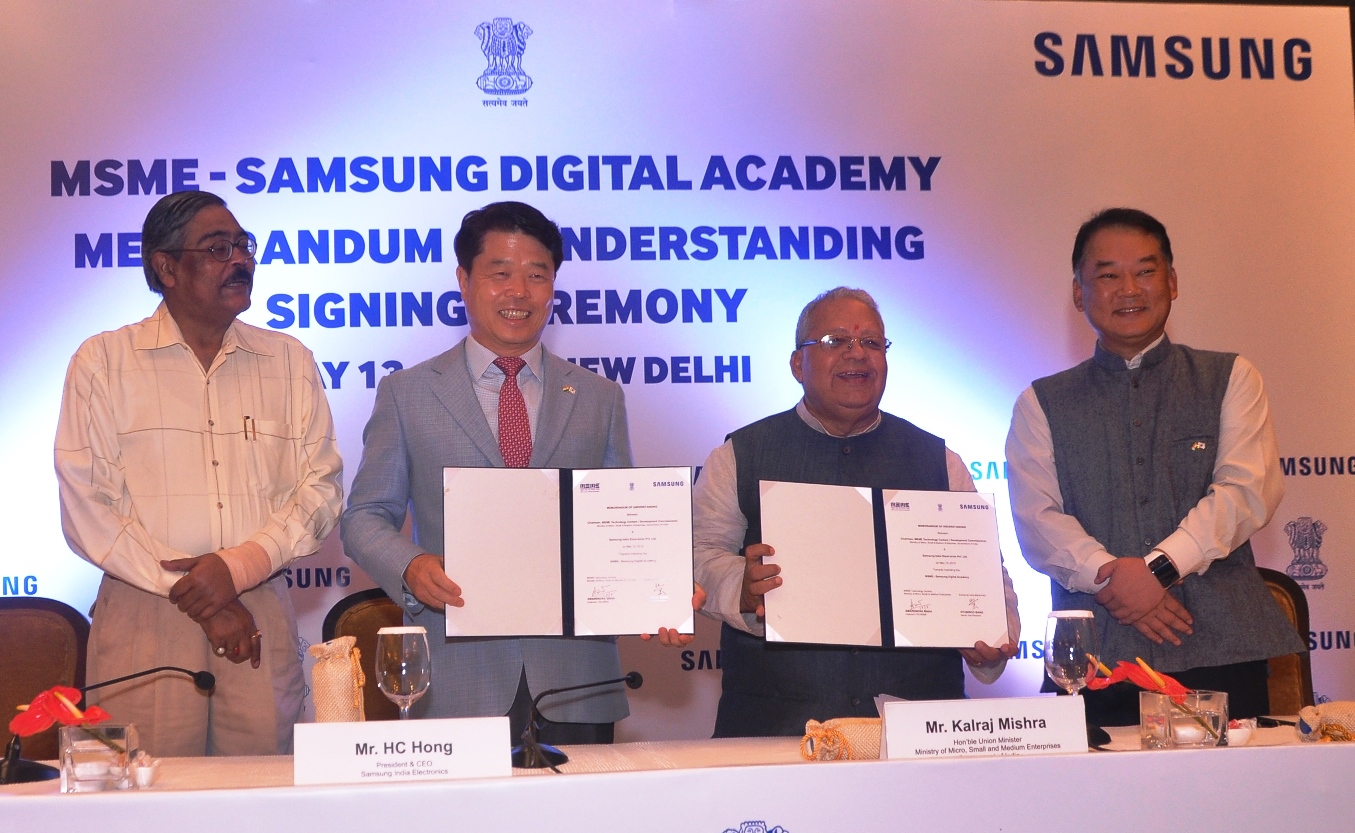 Samsung in a totally new marketing strategy has tied up with Government of India to open a MSME to offer young students a skill development course based on the Tizen OS platform. As per the MoU signed by Mr. Amarendra Sinha, Special Secretary & Development Commissioner, MSME and Mr. HyunWoo Bang, Senior Vice President, Samsung India Electronics, at an event in New Delhi MSME-Samsung Digital Academy is being set up with an objective to create a pool of trained youth who can leverage the software development and testing opportunities presented by innovative digital technologies based on the Tizen OS.
Speaking on the occasion, Honb'le Union Minister for MSME, Shri Kalraj Mishra, said,
[notification type="notification_info" ]"The Ministry of MSME continuously looks to provide opportunities to the country's youth to access current developments across various fields. Industry collaborations allow the Ministry of MSME to strengthen its skill development courses by providing up-to-date, industry-relevant training. This innovative collaboration with Samsung will help youth learn to develop digital content for next-generation ecosystems. As MSME skill development programs reach youth from all socio-economic strata, this program will also help bridge the digital divide."[/notification]
Mr. HC Hong, President & CEO, Samsung India Electronics, said,
[notification type="notification_info" ]"India is increasingly emerging as a key player in the development of next-generation technology ecosystems. Through the Samsung Digital Academy, we are looking to take this to the next level by creating an inclusive environment to help young India leverage the growing digital technologies market. We are pleased that through our collaboration with the Ministry of MSME, Samsung Digital Academy will also contribute to India's skill development mission from a digital perspective. We hope that many young students utilise this opportunity and be part of the development of an exciting, new era in smart devices that will shape the future."[/notification]
The Company will offer the Digital Academy course in collaboration with the Ministry, and will seek to train youth to develop apps that run on the Tizen OS across a multitude of devices such as smartphones, televisions and tablets.