A new social networking app!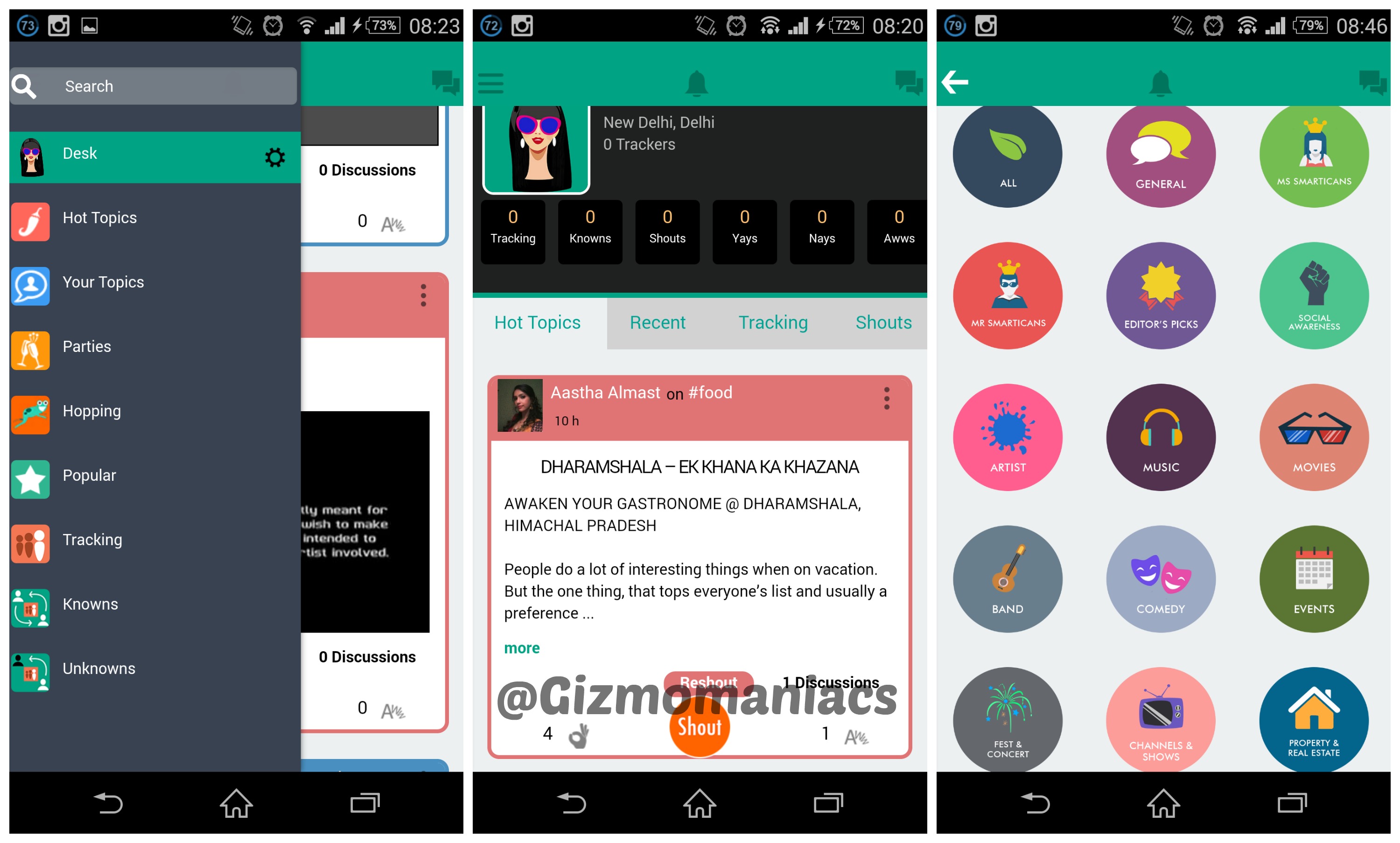 So here is the new buzz about social media which has kept people head over heels. Smartican, App for android and computers.  First true social networking website made for the Indians, by the Indians.
How does it work:
Provides users with the platform to express, discuss and share their experiences, issues and also to connect with each other, be it the similar experiences or conflicting. Hence, we can call it a topic based forum.
Complete strangers from all over the world can meet on Smartican through their interest in common topics!
Smartican has a native video sharing platform Smartiwood, which makes video sharing most convenient. So now you don't have to use a third party video sharing websites and embed it to the app. So now you have a platform to speak your heart out and you know your audience is actively listening and will probably respond with equal gusto.
Smartican wants to "Reinstate Smartness" by all its actions.
Let's take a tour of the app:
Sign in process: The first step is to sign in. You would need to create a new account which is quite easy. Just put in your details and you will be sent a verification code. Once you put in the code you are all set.
After logging in the first screen that comes is your desk. The following tabs are listed
Hot topics
Recent
Tracking
Shouts
Lets go through them one by one:
Hot topics: You can catch up with the world on the hottest trending topics based on whatever interests you eg: fashion, food, movies, music, and lot more. Just choose a topic from the given list and start posting. You can also add your own topic to start with and interested people may join in for a chit chat. A sound interesting isn't it?
Recent : people you know and people you don't know whatever they post or indulged in would be shown in Recent tab.
Tracking: If you have joined a certain forum or topic, you may track what is going on in that topic by going into the tracking tab.
Shouts: In this tab you can post anything you want. Speak your heart out with the help of Pictures, videos, animations, music and much more.
On the top of the screen you would have three icons
Chat : As the name suggests itself, you can chat with the people known and rather unknown but with the similar interests.
Menu: Here is how the menu looks like.
Parties : Check out the latest parties and the venue with all the details. You can also throw a party and ask people to come join in. What fun !! WOW
Hopping: This topic helps you find and make new friends to hop with you. This will make your networking easy. So just HOP IN!!
Popular: just touch the popular tab and you will get all kind of options like
Artists
Movie
Music
Band
Comedy
Events
And many more
There are lot many things that you can do using this application. What are you waiting for now. Just explore, meet new people, make friends stay in touch with the world.