Chatting apps have change the world of communication. No longer do you have to call people for everything, and neither does one needs to send age-old text messages for contacting someone. The apps have in fact made chatting so much fun and interactive, since along with simple texts, one can send pictures, videos, GIFs, attach documents and much more. There are several apps that have become popular – WhatsApp for its simplistic interface, Snapchat for its self-destructing content and Facebook Messenger for being tied up with the number 1 social network.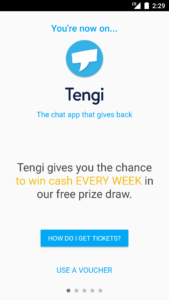 However, a new app on the block – Tengi is challenging these instant messaging services. You might ask what's so special about this app since the aforementioned titles are extremely popular. Well, Tengi has taken an interesting approach to chatting. You spend so much time using such apps, and Tengi wants to make it a productive time for you by paying you money for the same. Yes, you heard it right, you can earn money while chatting with your friends and family.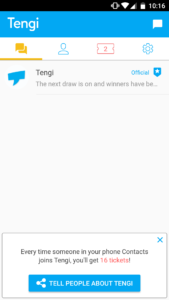 The interface of the app is simple and user-friendly. It's divided into four tabs, along with a new message icon at the very top. The new message icon does as you guess – lets you start a new conversation. The default tab is your chat screen, which shows all your contacts with whom you are chatting.
The second tab is for the contacts which are using the Tengi app, as well as groups. You can also see your phone contacts, so that you can tell them about the app. The app also makes it easy to connect with other friends by syncing with Facebook.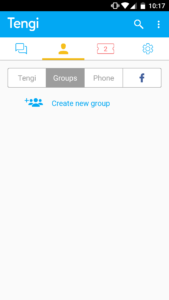 Now, the third tab is the most important one, since that's the highlight of the Tengi app. Here's how you can make up to Rs 10 lakhs while using the app. It's a kind of lottery and you get tickets to win the same. More the tickets – more are your chances of winning the lottery. When you join the app, you get two tickets, and you get more tickets if you use the app every day. However, you get most tickets when your friends join the app. You can earn as many as 16 tickets for each of your contact who signs up for Tengi. What's more, if they win the lottery, then you also get a chance to win the lottery as you get a ticket.
The last tab is for settings menu. You can check the account details or your privacy info.
All this sounds interesting, but you'd be wondering what about the chatting options. Can it match up to the app you are currently using? Well, it most certainly does. You can send voice messages, emojis, photos, location and more in the chat along with normal text messages.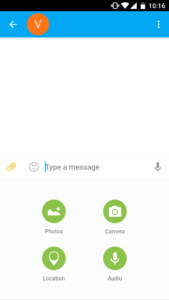 Overall, Tengi brings an interesting twist in the world of chatting apps. When we already spend so much time on such apps to stay connected with our near and dear ones, why not earn the money while doing it?