Public Chats Allows Users to Get Closer to Their Favorite Personalities and Brands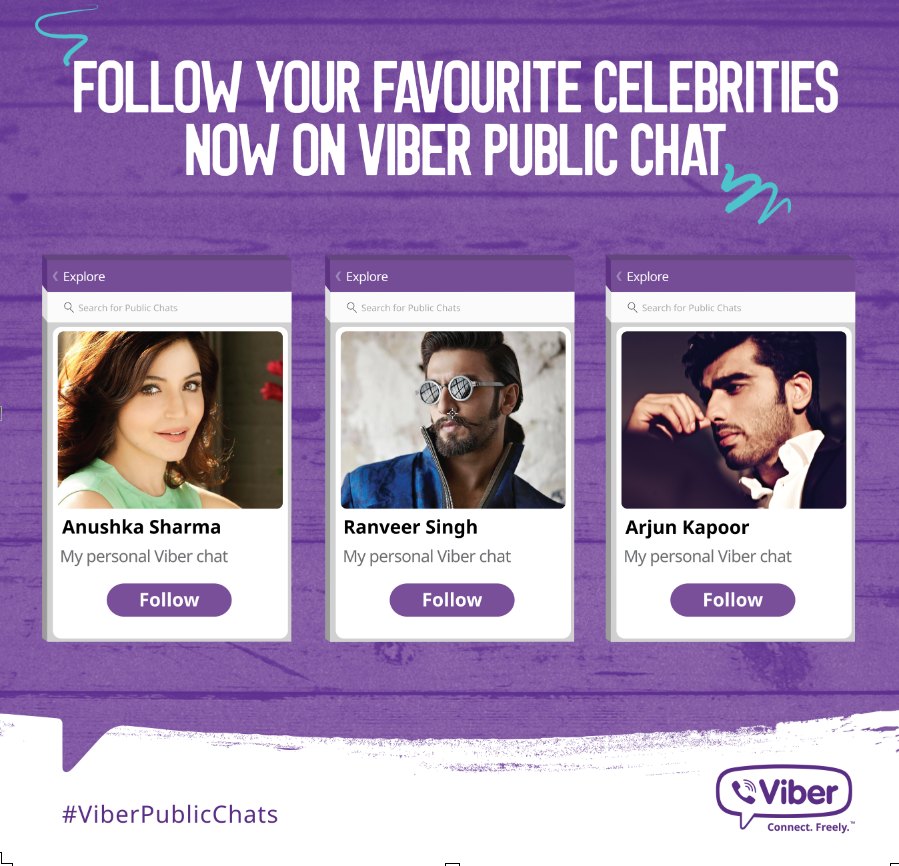 Viber, the messaging app used also for  HD-quality calls, announces Public Chats, a new feature which will allow users to discover, share and interact with conversations, communities and content on mobile.
Public Chats are live discussions between celebrities and personalities which is accessible to Viber users and they can follow. It offers a new kind of social experience by tapping into live conversations as they are happening. Viber users can follow as many of these chats as they like on their mobile device. Conversations are multi-media and include text, photos, audio, video, stickers, web links and more. Users can invite friends to follow the Public Chats that interest them, and also can share content.
Public Chats launched with global celebrities, personalities and brands. Some of the known personalities who have their accounts on Viber Public Chats are Anushka Sharma, Ranveer Singh, Arjun Kapoor, Sonu Nigam, Ayushmann Khurrana, Shaan and many more. Over and above these, world acclaimed sports personalities like Sachin Tendulkar, Virat Kohli, Rohit Sharma, Shikhar Dhawan, Saina Nehwal are some names, users can follow on Public Chats.
The most popular chats will be featured on the home screen of the Public Chats section of Viber app. Users can easily find out who is chatting, or they can access a chat directly through its customized URL.
Speaking on the occasion, Anubhav Nayyar, Country Head-India, Viber said,
[notification type="notification_info" ]"The release of Public Chats on Viber allows people to interact in a new way, listening to live discussions and staying up-to-date with exclusive content from the people and interests that matter to them most. We are launching this with a great line-up of celebrities, personalities, brands, influencers all over India."[/notification]
Speaking at the launch Mark Hardy, Chief Marketing Officer, Viber said
[notification type="notification_info" ]"I'm delighted to be here in India to celebrate the launch of Public Chats. We are thrilled with the response we've had so far – after just a few days, some of the most popular chats already have hundreds of thousands of followers, showing that users are intrigued by the fly-on-the-wall experience Public Chats offers. There's a great line up of talent from India, and we're looking forwarding to adding more Public Chats over the coming weeks and months."[/notification]