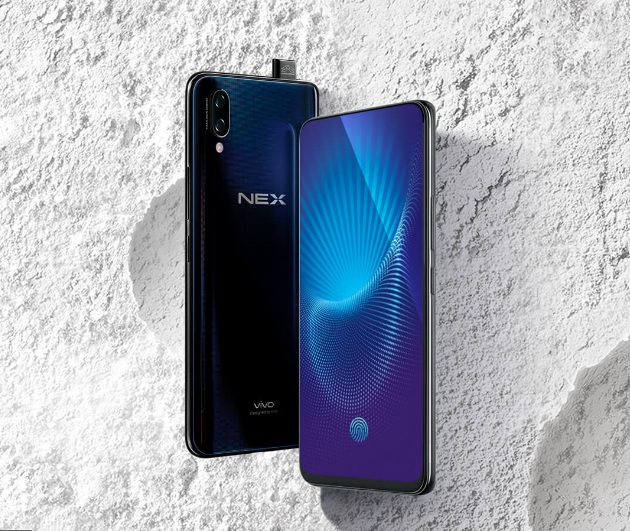 Vivo introduced its new flagship smartphones Vivo Nex S and Vivo Nex A in China. It comes with the highest screen to body ratio smartphone with 91.24 percent. The Vivo Nex smartphones are similar to the concept phone Apex showcased at MWC. Vivo Nex fulfils the front camera need with a pop-up camera. This smartphone also features an in-display fingerprint sensor but at a limited space, similar to Vivo X21.
Vivo Nex S is powered by Snapdragon 845 processor with 8GB of RAM. It has 256GB of storage, a 4,000mAh battery, and a 6.59-inch 1080p+ OLED display. It sports a dual rear camera setup of a 12MP primary camera with f/1.8 and a secondary camera of f/2.0. the front pop-up camera is of 8-MP with f/2.0. Unlike the other flagship device, this has retained the headphone jack. Vivo Nex also uses its screen vibration i.e. screen soundcasting technology to remove the traditional earpiece speaker.
Vivo also offers a cheaper variant called Vivo Nex A with Snapdragon 710, 6GB of RAM, and 128GB of storage. The smartphone is only available in China at 4,998 yuan (approx. Rs 52,750) for the high-end variant, Vivo Nex S.
Vivo Nex S Specifications are
Processor: Octa-core Qualcomm Snapdragon 845 SoC
GPU: Adreno 630
Display: 6.49-inch IPS FHD+ AMOLED, 1080p+ resolution, 19.3:9 aspect ratio
RAM: 8GB
OS: Android 8.1 Oreo based FunTouch OS 4.0
Storage: 256GB; expandable micro SD card support up to 356GB
Camera: Rear camera- 12-MP primary, f/1.8 aperture + 5-MP secondary, LED Flash, PDAF/Front camera- 8-MP, f/2.0 aperture, pop up camera
Battery- 4000mAh with 22.5W charger
SIM: Dual SIM (Nano) + microSD slot
Speakers: Screen Soundcasting Technology (On Screen)
Connectivity: 4G VoLTE, Wi-Fi 802.11 a/b/g/n, GPS, A-GPS, GLONASS, Bluetooth 5.0, and USB Type-C
Security: In-Screen Fingering Sensor, Face-Unlock
Vivo Nex A Specifications are
Processor: Octa-core Qualcomm Snapdragon 710 SoC
GPU: Adreno 616
Display: 6.49-inch IPS FHD+ AMOLED, 1080p+ resolution, 19.3:9 aspect ratio
RAM: 6GB
OS: Android 8.1 Oreo based FunTouch OS 4.0
Storage: 128GB; expandable micro SD card support up to 356GB
Camera: Rear camera- 12-MP primary, f/1.8 aperture + 5-MP secondary, LED Flash, PDAF/Front camera- 8-MP, f/2.0 aperture, pop up camera
Battery- 4000mAh with 22.5W charger
SIM: Dual SIM (Nano) + microSD slot
Speakers: Screen Soundcasting Technology (On Screen)
Connectivity: 4G VoLTE, Wi-Fi 802.11 a/b/g/n, GPS, A-GPS, GLONASS, Bluetooth 5.0, and USB Type-C
Security: Capacitive Screen Fingering Sensor(At back), Face-Unlock