Asphalt brings its latest version for Android and iOS!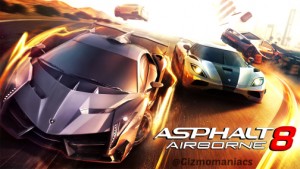 Gameloft's Asphalt series has been boom along on mobile gaming devices for nearly a decade. Gameloft as a development company is now here again with a new game Asphalt 8: Airborne. The Asphalt 8: Airborne, a visually-impressive racing game that comes packed with a ton of speed and action.  Whether you're looking to pull off flips and barrel rolls, or you want to speed and drift around the competition, Asphalt 8 offers something for all types of racing fans.
The main gameplay options are World Series (online play), Career, Quick Solo Race, and Local Wi-Fi Race. Season one of the career is available from the start, and is an excellent way to get used to the controls and the different game types. The first few races will likely be underwhelming, most players will quickly learn some of the tricks that will make Asphalt 8 stand out. Pulling off crazy stunts doesn't just look cool, it's a fun way to refill turbo meter and destroy the competition.
Pretty Car Wrecks
The Game of the week Asphalt 8 is gorgeous. There's stunning detail work and mind-boggling particle effects. Watching a car wreck is a particular joy, especially when you can see shards of glass flying everywhere on a high-resolution display. Blur effects are handled nicely, and all the car models are particularly well rendered. There's very little here that can't be described in superlatives. The environments change frequently. The all-important car models are also superbly rendered. They look completely and utterly classy. It's fantastic. And the cars that were included are awesome. They are not only recycling older model but they make them up-too-date.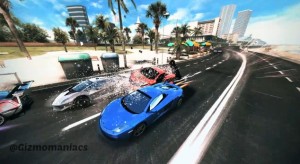 Updated Racing
Racing is similar to older games in the series. If you've never played Asphalt, it's super easy to learn. Your car automatically accelerates. There are six game modes. While modes like "classic" and "elimination" are mostly standard fare, races like "knockdown" and "gate drift" will provide special challenges that require you to hone different skills. The six game modes, spread out among nine tracks would be enough to satisfy most players, which may be the best option for players who are immediatelytired of class D races. Tapping on the bottom left of the screen hits the brake, which you can use to drift around tight corners and such for extra points. NOS is activated by tapping the right side of the screen. You'll just start flying. There are lots of ways to keep track of your stats in every game mode. There's lots of modes to play and there's also a fantastic, easy-to-use multiplayer racing mode that's worth trying out. Your class of car is automatically put into a race with other vehicles in its class. Beyond that, Asphalt 8 introduces some new features with Airborne as a title. You can now fly off jumps and do barrel rolls, getting massive points for those along the way. Asphalt 8 gets you literally airborne. Some circuits get interesting designs as a result, with one racing taking place while a space shuttle is lifting off. The push of air from around the shuttle means that you're floating for an extended period of time. You'll feel like you're flying as you navigate the in-air barriers of the space shuttle station.
 Corners schmorners
There are a number of different control methods to tinker around with, some of them involving automatic acceleration, and others requiring a button tap to go faster. There's also clever triple-tap nitro system which gives you speed bonuses if you touch the screen at just the right time, and a simple drift mechanic that takes practice to master means you'll spend a lot of time sideways and grinning. Races are tough, especially if you end up in a group at a similar level, and staying at the front of the pack can be a nerve-racking experience as you watch your opponents closing in.
Simply Asphalt 8 is a recent line of really good racing games. The controls and the cluttered menu system may be minor annoyances for a bit, but it won't take long for most players to adapt. The different game modes make Asphalt 8 a pure joy to play and racing fans will not want to miss this one.
Asphalt 8: Airborne is available for iOS and Android.
Asphalt 8: Airborne on Google Play Asphalt 8: Airborne on App Store