ASUS introduced the new ZenBook line up for 2018. The three new laptops are Zenbook 13, 14 and 15. They are the first models to use a four-sided frameless NanoEdge display, with ultraslim bezels and up to 95% screen-to-body ratio for near-borderless visuals.
ASUS Zenbook series has the lightest weight and most compact designs ever showcased by the company. All models also feature a special 3D IR camera that allows fast face login using Windows Hello, even in low-light environments. The models are torture-tested to military-grade (MIL-STD-810G) reliability standards, with demanding tests that include environmental extremes of altitude, temperature, and humidity, in addition to extensive drop, shock, and vibration testing.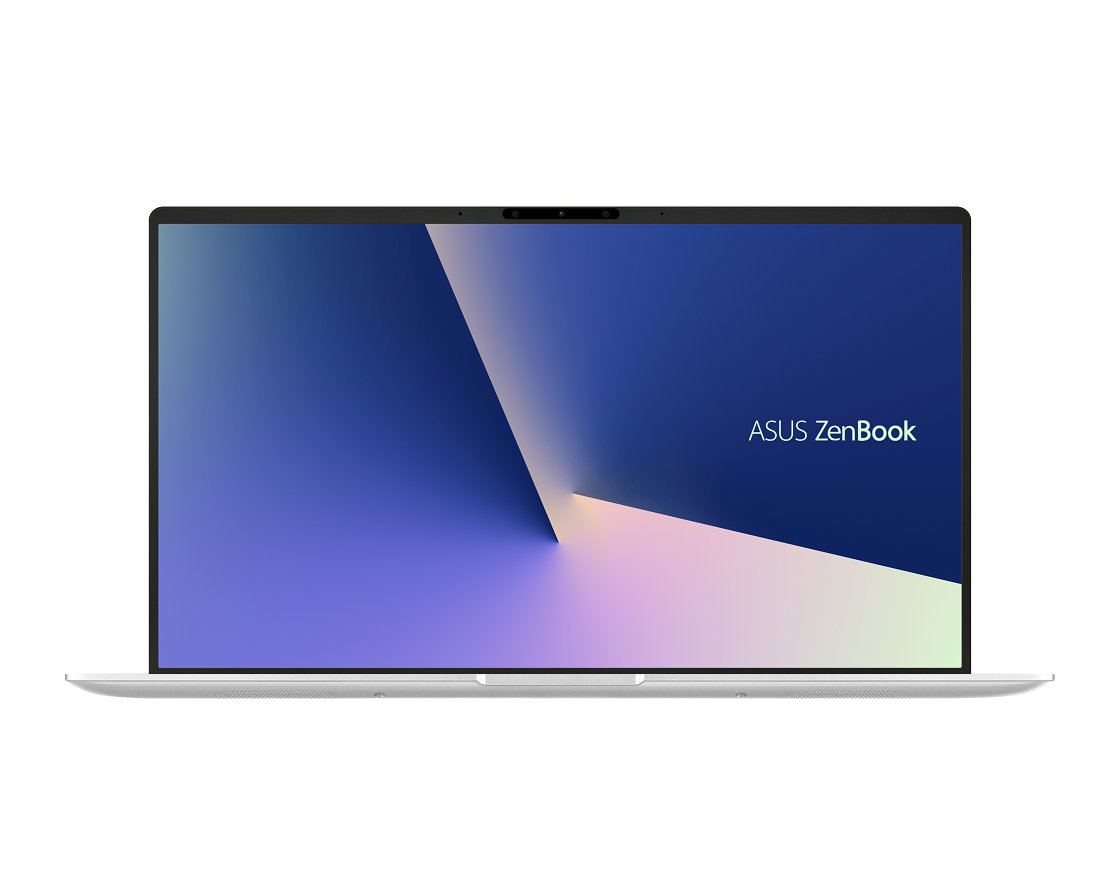 Also, the Zenbook 13, 14 and 15 models feature a full complement of high-performance components including the latest 8th Generation Intel Core i7 quad-core CPU, up to NVIDIA GeForce GTX 1050 Max-Q graphics, 16GB RAM, ultrafast PCIe SSDs and gigabit-class Wi-Fi.
ZenBook 13 (UX333FN) Specifications are
Processor: Intel® Core™ i7-8565U processor / Intel® Core™ i5-8265U processor
GPU: NVIDIA® GeForce® MX150, 2GB GDDR5 VRAM / Integrated Intel® UHD Graphics 620
Display: 13.3″  FHD (1920 x 1080) NanoEdge display, 178° wide-view technology, 72% NTSC, Four-sided frameless design, up to 95% S/B ratio
RAM: 8GB / 16GB 2133MHz LPDDR3 onboard
Memory: 1TB PCIe® 3.0 x4 SSD or 512GB/256GB PCIe® 3.0 x2 SSD
Camera: 3D IR HD camera
OS: Windows 10 Pro / Windows 10 Home
SIM: Dual SIM (nano + nano/microSD)
Connectivity: Wi-Fi: Dual-band 802.11ac gigabit-class Wi-Fi, Bluetooth® 5.0
Ports: USB 3.1 Gen 2 Type-C™, USB Type-A (up to 10Gbps), USB 2.0, HDMI, Micro SD, Audio combo jack
Battery: 50Wh 3-cell lithium-polymer battery, Up to 14 hours battery life, 65W power adapte
Dimension: 30.2cm x 18.9cm x 1.69 cm
Weight: With anti-glare display: 1.09kg, With standard display: 1.19kg
ZenBook 14 (UX433FN) Specifications are
Processor: Intel® Core™ i7-8565U processor / Intel® Core™ i5-8265U processor
GPU: NVIDIA® GeForce® MX150, 2GB GDDR5 VRAM / Integrated Intel® UHD Graphics 620
Display: 14″  FHD (1920 x 1080) NanoEdge display, 178° wide-view technology, 72% NTSC, Four-sided frameless design, up to 92% S/B ratio
RAM: 8GB / 16GB 2133MHz LPDDR3 onboard
Memory: 1TB PCIe® 3.0 x4 SSD or 512GB/256GB PCIe® 3.0 x2 SSD
Camera: 3D IR HD camera
OS: Windows 10 Pro / Windows 10 Home
SIM: Dual SIM (nano + nano/microSD)
Connectivity: Wi-Fi: Dual-band 802.11ac gigabit-class Wi-Fi, Bluetooth® 5.0
Ports: USB 3.1 Gen 2 Type-C™, USB Type-A (up to 10Gbps), USB 2.0, HDMI, Micro SD, Audio combo jack
Battery: 50Wh 3-cell lithium-polymer battery, Up to 14 hours battery life, 65W power adapte
Dimension: 31.9cm x 19.9cm x 1.59 cm
Weight: With anti-glare display: 1.09kg, With standard display: 1.19kg
ZenBook 15 (UX533FD) Specifications are
Processor: Intel® Core™ i7-8565U processor / Intel® Core™ i5-8265U processor
GPU: NVIDIA® GeForce® GTX 1050 Max-Q, 2GB/4GB GDDR5 VRAM / Integrated Intel® UHD Graphics 620
Display: 15.6″  4K UHD (3820 x 2160) NanoEdge display, 15.6"  FHD (1920 x 1080), NanoEdge display, 178° wide-view technology, 72% NTSC, Four-sided frameless design, up to 92% S/B ratio
RAM: 8GB / 16GB 2400MHz LPDDR3 onboard
Memory: 1TB PCIe® 3.0 x4 SSD or 512GB/256GB PCIe® 3.0 x2 SSD
Camera: 3D IR HD camera
OS: Windows 10 Pro / Windows 10 Home
SIM: Dual SIM (nano + nano/microSD)
Connectivity: Wi-Fi: Dual-band 802.11ac gigabit-class Wi-Fi, Bluetooth® 5.0
Ports: USB 3.1 Gen 2 Type-C™ (display support), USB Type-A (up to 10Gbps), USB Type-A (up to 5Gbps), HDMI, SD card, Audio combo jack
Battery: 73Wh 4-cell lithium-polymer battery, Up to 116 hours battery life, 90W power adapte
Dimension: 35.4cm x 22cm x 1.79 cm
Weight: With anti-glare display: 1.59kg, With standard display: 1.69kg