Let's check how it works!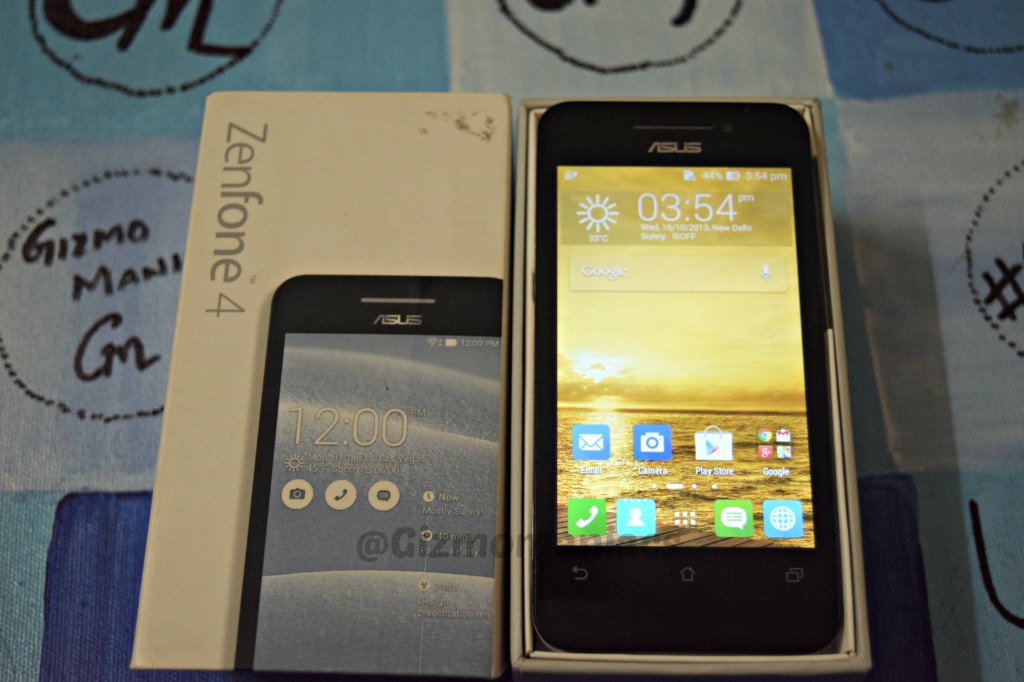 Asus launched three smartphones in India Zenfone 4, Zenfone 5 and Zenfone 6. According to the name the screen size depends. All the smartphones are available only on Flipkart and Zenfone 4 is available for Rs. 5,999. It is coming in White, Red, Yellow, Blue and Black colours.
There are two variants of Zenfone 4 one named A400CG which has 4-inch display and another A450CG which has 4.5-inch display. We will review the Asus Zenfone A400CG with 4-inch display. As we have done the review of Zenfone 5 and Zenfone 6 both are worth of money and expectations may go high for Zenfone 4 too.
Design
The Zenfone 4 looks exactly the younger brother of Zenfone 5 and Zenfone 6. It has the same poly carbonate back which gives you better grip. It is small so can be handling easily those who don't want big phablets. It doesn't come with LED flash and the speakers are near rear camera at top. It comes with removable battery and supports dual SIM both micro SIM. It has the microSD card slot near camera and for inserting or removing SD card you don't have to remove battery. It has power button and volume rocker key at right side and left side it has micro USB port for charging and USB.
Hardware and Software
The display of Zenfone 4 4-inch with 480×800 pixels which not at all bad and you can't compare it to Zenfone 5 and Zenfone 6 as they are costly too. It comes with 1.2GHz dual core Intel Atom Z2520 processor which works well, you will hardly get lag as with general use. For hyper threading it comes with PowerVR SGX544MP2 GPU. It comes with 1GB RAM and 8GB internal storage which is expandable up to 32GB via microSD, this is not the usual thing to find out at this price point. It has connectivity options like 3G, Wi-Fi b/g/n, Bluetooth 4.0 and A-GPS. It comes with 1600mAh battery capacity.
The company is shipping Zenfone 4 with Android 4.3 Jelly Bean with beautiful and attractive Zen UI. In the lock screen it comes with big clock, weather, alarm in display and camera, messages and phone shortcuts to access directly. It can have up to nine home screens. The notification panel comes in Blue and White colour with an organized pattern. It has a crisp and clear display with low resolution screen. We were happy using the Asus keyboard as it is the same with Zenfone 5 and Zenfone 6 but little smaller, if you have thick fingers it is a little mess to operate. The Zenfone 4 comes with a lot of bloated apps like Omlet Chat, Amazon kindle and Mirror. Customization in power saver modes lets you to run battery last longer.
Camera
Asus Zenfone 4 has 5MP rear camera and 0.3MP front camera. There are twelve modes Selfie, Time Rewind, Night, Smart Remove, Miniature, All Smiles and GIF Animation. While video recording a Time Lapse mode is also available. It comes with by default camera resolution 2560×1440 (16:9) and which can be increased to 2560×1920 (4:3). We low the camera quality in low light and in sunlight as it takes sharp pictures. As the close up shots are good as there is not Flash in it. The rear camera can shoot video 1920×1200 Full HD which is a delight. We like the camera performance according to price it comes with.
Performance
We will compare Zenfone 4 with Motorola Moto E and Sony Xperia E1 dual with AnTuTu. Scores were 15,095 of Zenfone 4, 12,540 for Moto E and 13,198 points for Xperia E1. Graphics scores are 16.3 fps, 10.8 fps and 12.8 fps respectively for Zenfone 4, Moto E and Xperia E1. Last but not the least Quadrant scores of all the phones are 6,400, 5,233 and 5,110 respectively. So Zenfone 4 is a clearly better in terms of performance.
Battery of the smartphone can last up to 5hrs and 30mins on full video use whereas on 3G and calling it last nearly full day. No complaint with battery performance too. Sound is low but it is clear and not distorted.
Gizmo Verdict
Asus Zenfone 4 is complete pack for Rs. 5,999 as no other smartphone can match the same feature at this price point. Those who considering branded but entry level smartphone can go for it. Check the video review of the Asus Zenfone 4.