Asus revealed the ZenWatch 3 which is their new Android Wear smartwatch at the IFA 2016 and by the looks of it, it brings some great improvements to the table as compared to the older ZenWatch 2. The first thing that you will notice is the round dial which looks very attractive and it has an AMOLED display which just adds to the beauty.
Spec wise, it is powered by a Snapdragon 2100 processor which means it will be providing the users with a much better performance. The best part about the chipset is that Qualcomm has specifically developed it for wearables just like ZenWatch 3. The 512MB RAM ensures that the watch offers smooth processing.
One of the major worries of owning a smartwatch is the battery life. We have seen so many good smartwatches that provide just horrible battery life, but it seems the Asus ZenWatch 3 will solve that worry. As per Asus, the watch will be able to charge up to 60% of its capacity in mere 15 minutes and the battery will last for a good two days on a single charge.
The 1.39-inch AMOLED display panel bears a resolution of 400 x 400 pixels. All this converts to a pixel density that makes the screen look very good looking.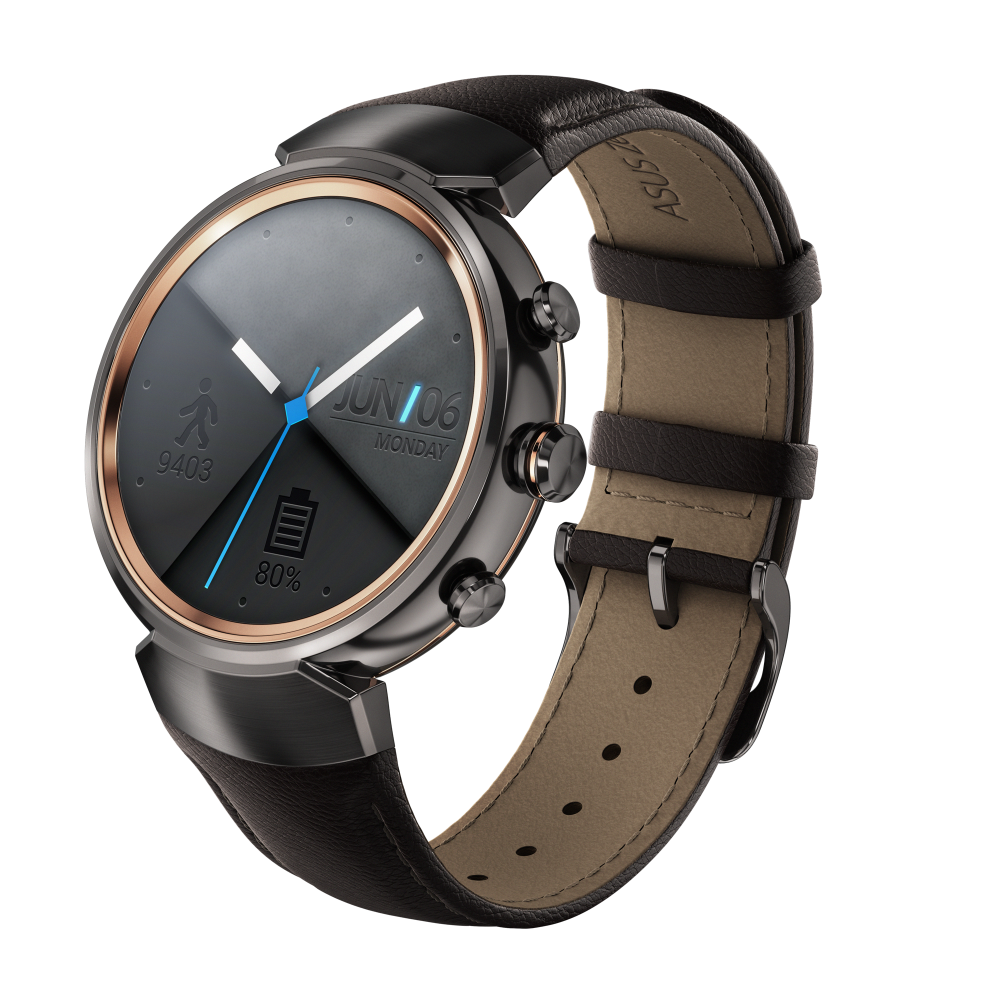 As you can see above, the smartwatch does look very interesting and you will also notice the two extra buttons in addition to the main crown. These extra buttons have their own advantages. You can choose to customize what one of these extra buttons does and the other one launches the Asus ZenFit app which can be used for activity tracking.
The display is covered with Gorilla Glass and overall the watch looks very good. The watch itself is very slim and the screen is curved. It has a metal body and comes in four colors to choose from i.e. gunmetal, silver, or rose gold.
At just 9.95mm thickness, the Asus ZenWatch 3 is among the slimmest smartwatches. It is definitely thinner than the Apple Watch but if it is better than it or not, it is something you need to decide.
The watch would connect to compatible smartphones via Bluetooth 4.1, and it also has Wi-Fi, which means it can work independently.
With the launch of the Asus ZenWatch 3, the other manufacturers will also be releasing their own smartwatches and the consumers will have a lot of good options to choose from. The watch will start selling at EUR 229 which roughly converts to $255 starting this October.