UC browser is not a browser but more to offer!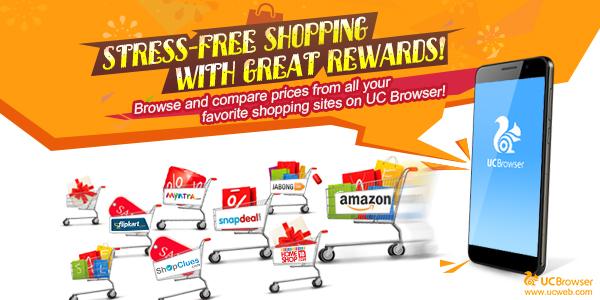 As the Diwali celebrations are approaching nearer, e-tailers have been preparing themselves for the consumers and now UC browser has announced their 15 day "Diwali Shopping Festival". Currently grabbing a share of 35 percent UC browser is committed to give users the best deals for their Diwali shopping. UC Browser's Diwali Shopping Festival is the first and only place where Indian shoppers can browse and compare all offers from multiple online stores to maximize savings.
UCWeb has managed to collaborate with numerous e-commerce companies like Amazon, Snapdeal, Myntra, Jabong, Homeshop18, and Shopclues to showcase all the discounted items for sale. To make sure shoppers get the absolute best deals and lowest prices, UC Browser developed a "Browse and Compare" feature that lets users easily compare prices among different online stores and find the most rewarding offers, including discounts, cashback and gift cards. You can even set up price drop alerts for your desired products to save more. UCWeb is also providing users a cashback on top of already discounted prices like for every INR 1000 spent on Amazon via UC Browser, you will receive INR 150 cashback instantly! While browsing Diwali Shopping Festival on UC Browser, users will also come across surprises in the form of scratch cards that are randomly distributed to shoppers by UC Browser. Scratching these cards will reveal badges rewarding the users a chance to win gift cards and physical prizes including iPhone 6, iPhone 6 Plus, Huawei Honor 6 and other hot gadgets. If you are one of the few to collect all 5 badges, you can walk away with Rs 100,000 worth of items for free!
Also If you find a product that you want to buy after comparing prices, click on the "Collect" button in the product details page to add it to your Wish List. To spread the festivity and joy, you can share the list and your warm wishes to your friends on Facebook. If your friends visit your Wish List page and light up a diya for you, you will each get a lucky draw entry for a chance to win gadgets, such as iPhone 6! After placing an order for your favorite products, you can share your shopping experience and upload a screenshot of your order to get INR 50 mobile recharge card absolutely free.
With all these amazing offers on deals UC Diwali Shopping Festival, finding the right product and shopping is a pleasant experience for all the users. . So, don't stress yourself this Diwali season. Experience UC Browser's all-in-one shopping service to maximize savings and get the best and most enjoyable shopping experience.