Giveaway Contest!
Microsoft Lumia 535 is a great affordable smartphone and today we are starting a giveaway where one Lucky winner will get a brand new Microsoft Lumia 535. Starting today, We will be asking 1 question each day for the next 5 five days and the person giving most correct answers will be chosen as the winner of the contest.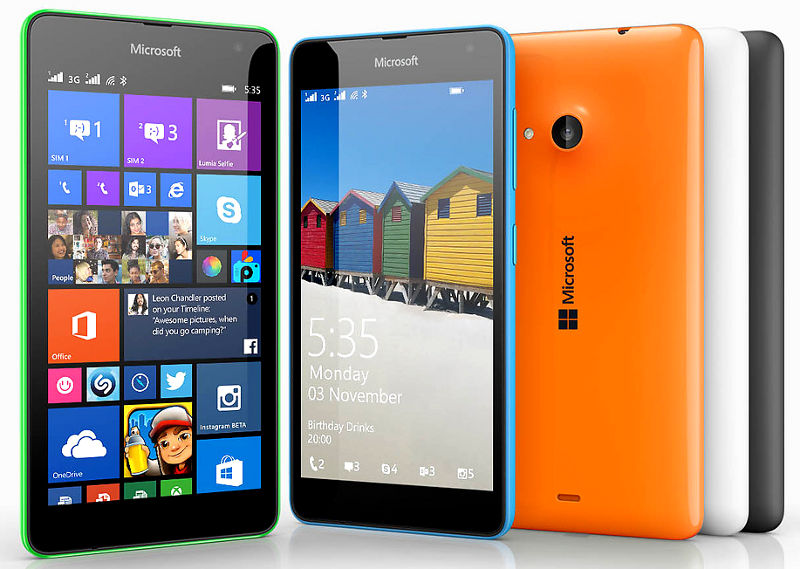 The giveaway will start today at 3 PM when we will ask the first question and will end on 19th September 2015 at 3 PM. Winners will be announced on 21st September on our YouTube Channel. To know more about the contest please read the rules given below.
Please refer the rules below and find the questions below.
Microsoft Lumia 535 – The Power of 5
Lumia 535 is the first-ever Lumia smartphone with the Microsoft branding. This mid-range smartphone comes with a 5-inch display, 5MP wide-angle front camera, and 5 MP rear camera. Powered by a 1.2Ghz quad-core processor, the device has a strong 1905mAh replaceable battery and comes with in-built 8GB memory and signature Microsoft apps like:
MS Office Suite
Lumia 535 is pre-packed with MS Word, Excel, and PowerPoint to help users Achieve More productivity on-the-go.
Skype
Lumia 535provides amazing Skype experience on its 5 inch wide display. Users can enjoy a simulating video call experience through the 5 MP wide angle camera and connect with loved ones anytime, anywhere.
OneDrive
In addition to the in-built 8 GB storage, Lumia 535 comes with 30 GB of Free OneDrive storage. This makes it easy for users to share, view, and edit their documents on-the-go.
OneNote
OneNote on Lumia 535 empowers users to take quick notes, store them on the cloud, and share them in real-time.
Lumia 535 is upgradable to Windows 10.
Rules 
1. Each participant has to answer each question correctly. You need to leave a comment in the comment section below with correct name and email id.
2. All 5 questions (questions will be asked between 2-4 PM each day) need to be answered in order to win the prize.
3. Users Need to follow @LumiaIndia and @Gizmomaniacs on twitter.
4. The Contest is open for  residents of India and the winner will be announced by 21st September 2015.
5. Winner need to submit a Valid Photo ID in order to get the prize.
Questions
Day 1 Question – 14 September
Abhinav is a middle-class boy who has come to Delhi to pursue his studies. Facing a financial crisis, he has chosen to become a cab driver. Which Lumia 535 feature will he use to tackle the tough situations without compromising his studies and failing to submit projects on time?
Day 2 Question – 15 September
Hemant is a college student who has great ambitions and wants to start a digital magazine. Which Lumia 535 features will he use to realize his dream and manage studies?
Day 3 Question – 16 September
A multi-talented professional, Anjum is respected in his office for his capabilities in taking responsibilities and fulfilling them convincingly. Our friend is now facing an extremely tough challenge and is taking the help of his colleague to overcome it. He has to give 10 marketing ideas that drive sales for his company. Which Lumia 535 features will Anjum and his colleague use to share ideas and polish them on-the-go?
Day 4 Question – 17 September
A happy-go-lucky guy and a business school student, Aseem is into his last semester. His father has fallen ill and being the only son, he has to take care of his father's business and prepare for his final exams. Which Lumia 535 features will he use to fulfill both his responsibilities in this crucial time?
Day 5 Question – 18 September
A B.tech student, Mahendra has started working as a freelance data entry operator to manage his additional expenses which he cannot meet with his pocket money. Working on a tight deadline, he has to complete the assignment that the client gave and finish his semester project. Which Lumia 535 features will he use to work and maintain his grades?