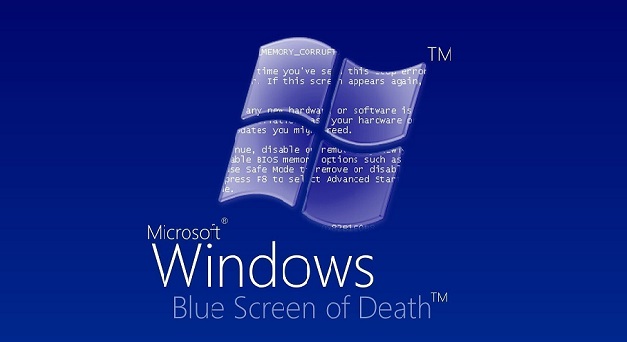 What is Blue Screen of Death?
 Blue Screen of Death (BSOD) is an error screen displayed when your windows PC is crashed for some reason. stop error, bluescreen, Blue Screen of Doom, BSoD, bug check screen, Stop screen are the other names of this mighty error screen.I bet many Windows users have seen it at least once. This error is quite an annoying one and you can't simply point out a cause for this error screen, There might be a software issue, Faulty RAM 0r Device Driver Incompatibility etc…. So, You can't easily deduce the source of the error.
What causes Blue Screen Of Death (BSOD)?
As I mentioned earlier, Blue Screen of Death (BSOD) is caused by PC hardware issues or Driver Incompatibility, when Windows encounters these issues it revokes an "STOP ERROR" which takes you to Blue Screen as a result of crash. Most often users tend to think that it was due to faulty hardware, But it reality most of the Blue screens are caused by driver malfunctioning and Kernel errors.
How to Know the Cause of Blue Screen of Death?
Who Crashed is the best software I can recommend to know the cause of your Blue Screen of Death. When Blue Screen occurs, Windows creates a crash dump file which contains the  information about the crash. By Using certain debugging tools, we can analyze the dump file to know the cause. But you need to have some debugging skills and so and so knowledge about computers. But "Who Crashed" Software is kind enough of to do that for us. Download the software from the given link below.
Download

After Downloading, Install the software and run it for dump file analysis. If your computer crashes during system startup it is suggested that you boot into safe mode and then run "Who Crashed" software.
Tips to Fix Blue Screen of Death
If it is a Hardware issue, Upgrade the hardware and its firmware and make sure the hardware is compatible.
If it is a Software issue, Re-install that particular software or try an alternative software and make sure you install the latest update of that software
Install the compatible Drivers
Disable the Automatic Restart, Check the animated GIF below
[author image="https://secure.gravatar.com/avatar/0ca1ace710faa2f5e0fd6dd95bf56b3a" ]Nithesh Chakravarthi is an Engineer by education who is passionate about Blogging, Technology and Anime. He is currently managing his own blog (Tech Ninja) and pursuing his career in Networking field[/author]