Is 13.3-inch popular screen size!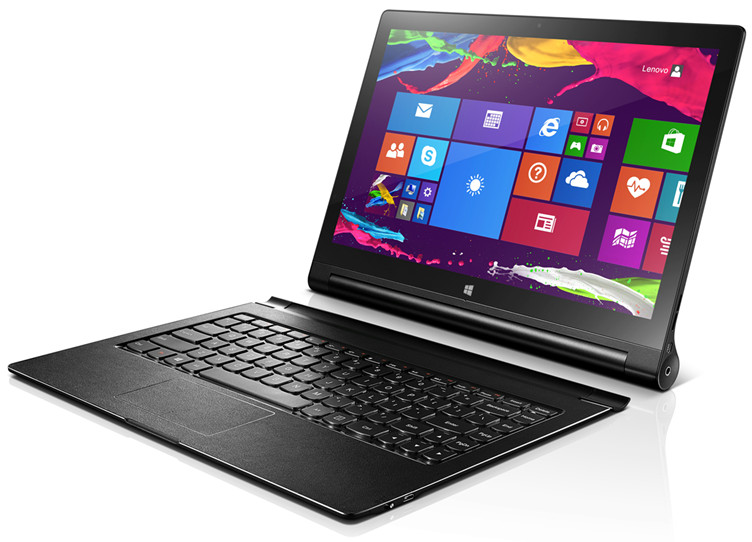 Lenovo launched Yoga Tablet 2 with 13.3-inch Windows 8.1 OS. Earlier Lenovo launched Yoga Tablet 2 8-inch Windows. It has 13.3-inch WQHD IPS display with 178 degreee viewing angle and 2560×1440 pixel resolution. It has 1.8GHz quad core Intel Atom processor.
It comes with 4GB of RAM and 64GB internal memory which is expandable up to 128GB. It sports 1.6MP front facing camera. Connectivity options include Wi-Fi 802.11 b/g/n, Bluetooth 4.0 and Micro-HDMI. It comes with 12800mAh battery capacity which last up to 15 hours according to Lenovo. The tablet is loaded with dual front large-chamber JBL Speakers, 5W Subwoofer, Dolby Audio and Wolfson Master Hi-Fi Codec. It doesn't come with built-in projector which is present in Lenovo Yoga Tablet 2 Pro. It can also be in Hold, Stand, Tilt and Hang modes.
The Lenovo Yoga Tablet 2 with 13-inch and Windows model will be available in Black colour for $699.99 (approx. Rs. 43,000) including the keyboard. It will go sale from November in U.S.
Lenovo Yoga Tablet 2 with Windows (13-inch) specifications are
Processor: 1.8GHz quad-core Intel Atom
Display: 13.3-inch WQHD IPS, 178 degree viewing angle with 2560×1440 pixels
RAM: 4GB
Memory: 64GB internal, expandable up to 128GB
Camera: 1.6MP HD front-facing camera
OS: Windows 8.1
Connectivity: Wi-Fi 802.11b/g/n (2.4 and 5GHz), Bluetooth 4.0, Micro-HDMI
Battery: 12800mAh