Over the past few years, eSports has become an industry of its own with several players becoming professionals in this field. And why not? With hundreds of thousands of dollars as prize money, it's quite lucrative. Perhaps that's why brands are also stepping into the segment. World's leading PC brand, Lenovo, is also conducting a challenge of its own dubbed Legion of Champions (LoC), which recently concluded its third edition in Thailand.
The annual competition is held in partnership with Intel and was conducted over a period of three days. The global competition saw teams from all the parts of the world competing against each other. Sadly the team India wasn't able to win the challenge. Yet, it was a great learning experience for the team as Suvodeep Ghosh, Captain of White Shadows from the team India stated: "It was an intense showdown but I'm glad the team was able to stay composed and execute our strategy to the tee. LoC has been a great platform for me to connect with other avid gamers and sharpen my skills, especially since we got to hear from a professional gaming expert about gameplay strategies. This was truly an exhilarating experience given the stiff competition we faced, but I am already looking forward to next year's LoC and seeing my fellow gamers from across the region come together in friendly competition again!"
Ultimately the trophy was won by team Awe Star from Korea, which the team members winning a total prize of $7,000 and $5,000 worth of gaming-oriented Legion Y530 laptops. First and second runners-up – team Diamond from Taiwan and team Mega Esports from Thailand – got $3,000 and $2,000, respectively.
"Since the first edition of LoC in 2017, we have doubled the number of participating teams. The results have exceeded our wildest expectations and we look forward to taking eSports to the next level in Asia Pacific," stated Ken Wong, President, PCs and Smart Devices, Lenovo Asia Pacific.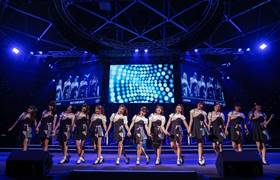 That's not all, the three-day competition also saw participants being entertained by Sweat16, a popular Thai idol group.