"Money View partners with ICICI Prudential to launch GREEN ACCOUNT"

We are always so engrossed with our day-to-day activities that keeping track of our expenditure, savings and investment over multiple accounts tends to become a tedious task. Money View is a simple app which aims to track your expenditure in a simple, smart and secure way. By providing a holistic view of your finances, it also helps you to make astute financial decisions.
The Money View app is a user friendly Android app and is currently the top finance app on the Google Play Store with over three million downloads.
Key features:
Tracks your monthly expenses– it gives a real time single view of your money by monitoring all bank counts, investments, loans at one place on the app
Auto-track Expenses to stay Within budget– view all spends category wise and know where you spend and how much you spend
It tries to understand your spending pattern
It reminds you to pay bills on time– Get bill reminders, and pay bills with just one click through the app
Split your bills with friends and alert them on the amount owed
Track reimbursements easily within the app.
The best part is that you don't need to input your spends manually, as the Money View app gathers all this information from the SMSes which usually lie unread in the inbox. It doesn't read your personal messages. It neither uses full account numbers nor does it ask for one time password (OTP). You can also set PIN for further protection of the app. So, security is something that is ensured by this app first. It shows you your monthly expenses and you can get updated with weekly or monthly reports of your expenses and thus, stay on the right track.
Thus, Money View app keeps you informed about your finances. It is like a personal finance manager in your pocket.
Special feature: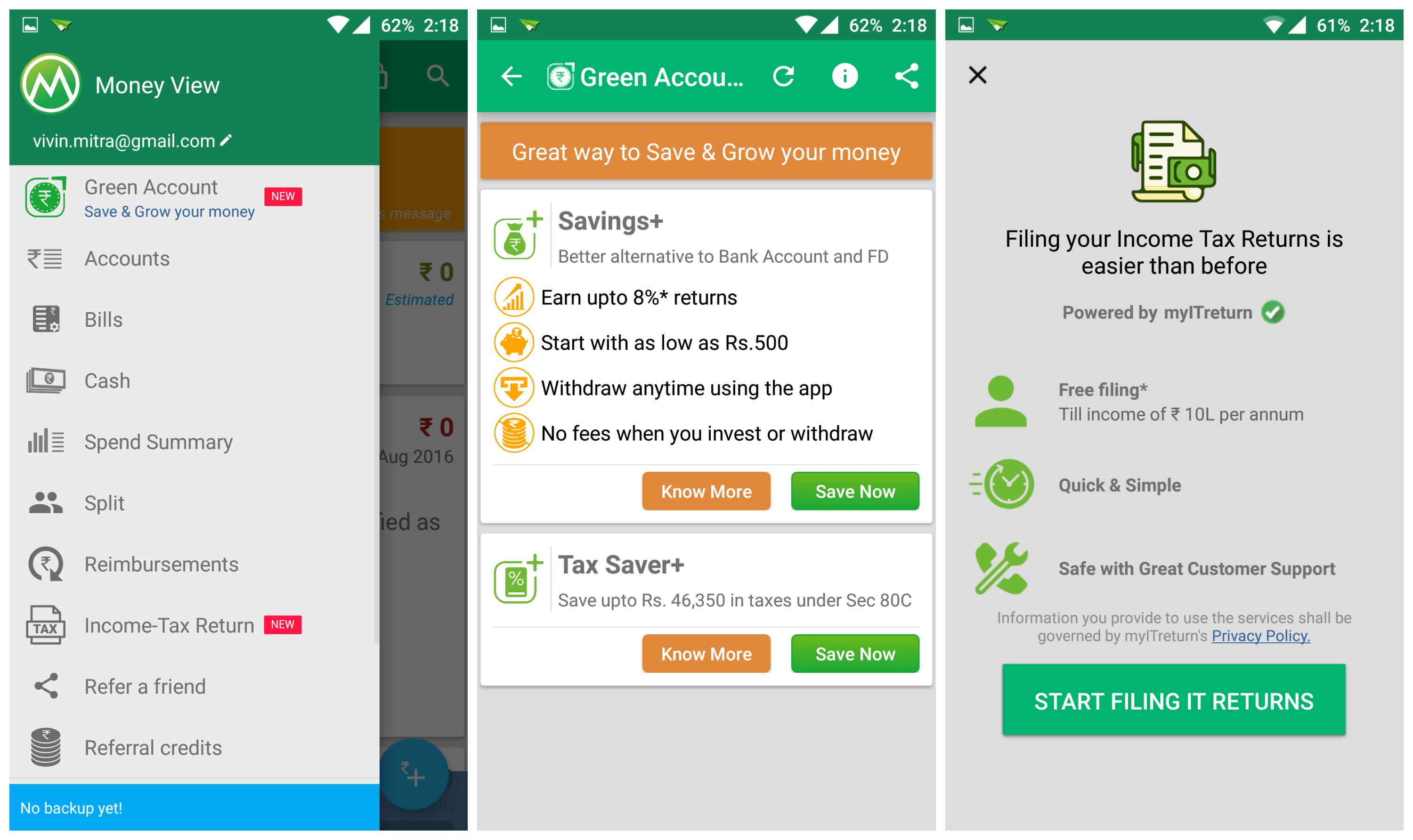 Money View and ICICI Prudential Mutual Fund, a leading Mutual Fund (MF), have launched "GREEN ACCOUNT",   a one of its kind app-based solution to digitize the investment scene, thus enabling Indians to 'save' and 'grow' money on-the-go. The GREEN ACCOUNT offers two products 'savings+' and 'tax saver+' from ICICI Prudential.
Savings+– It is designed to help users to save for their short term and medium term goals and thus, provides a suitable alternative from the traditional saving schemes. Savings could, in fact, grow by allowing users to park them in Liquid Funds offered by ICICI Prudential Mutual Fund. Furthermore, such schemes usually have no exit load or withdrawal penalty, which gives users the flexibility to withdraw the funds whenever they need. It has low risks and high returns associated with it.
Tax Saver+– This helps users save on their tax by investing in Equity Linked Savings Scheme (ELSS) option provided by ICICI Prudential Mutual Fund. Users can save up to Rs 46,350 in taxes depending on their tax rate by investing up to Rs 1.5 lac annually. It seeks to grow your money and have tax free returns.
GREEN ACCOUNT is a completely digital investment platform. A new account can be created easily on a paperless application form within the Money View app. It also helps the user to manage their portfolio – invest more or withdraw funds anywhere anytime with a few taps on the Money View app.