Data saving app? Answer is yes it really works.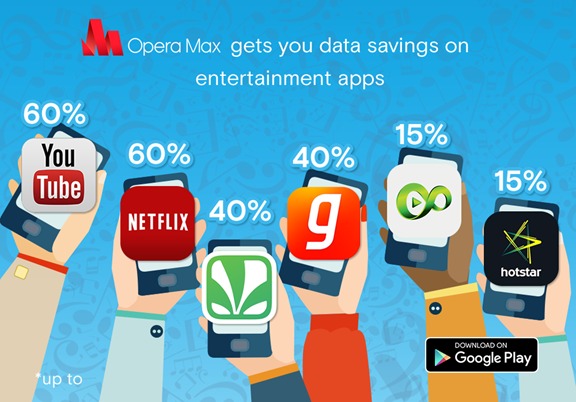 I am using smartphone from more than 5 years and evolution of smartphone means usage of Internet (data) gets increasing. If I use my regular apps like Facebook, whatsapp, Twitter, Instagram, YouTube, Hotstar, this means I have to use on Wi-Fi or limit my data usage which is completely impossible when you are tied up with social world. So using Opera Max for few months definitely gave me extension or I can say lifeline to go with more usage and there is no background data running. The Opera Max is made by famous brand Opera which is well known browser in the world.
According to the company reports users are mostly engaged with entertainment apps mostly which consume around 60% of mobile data while streaming video and audio. Opera Max can do data saving on entertainment apps YouTube-60%, Netflix-60%, Saavn-40%, Gaana-40%, Hotstar -15% and Eros Now- 15%.
Sergey Lossev, Product Head for Opera Max at Opera, said,
[notification type="notification_info" ]"An Android smartphone without data is like a car without gas, it can't take you the places you want to go. Unfortunately, data is still expensive for hundreds of millions of users, and entertainment apps drain mobile data much faster than any other app. When you make a data-savings engine capable of compressing videos and music and then make it work seamlessly with native Android apps, you get a powerful tool for lowering the cost of data usage and helping users maximize their entertainment options."[/notification]
How Opera Max works with your smartphone?
App is available in Play Store, go and install. It will require user permission to get connect on Wi-FI or Data or both, completely gives user to pick the choice. Once it gets connected it lets to optimizes  video, images, and webpages to use less data by Opera Max Savings Cloud. When Opera Max runs it directly uses to Virtual Private Network (VPN) to measure data usage directly from devices. The company is bundled with many OEM including Samsung, Intex and Oppo smartphones.