After a long wait Samsung brings Pay in India!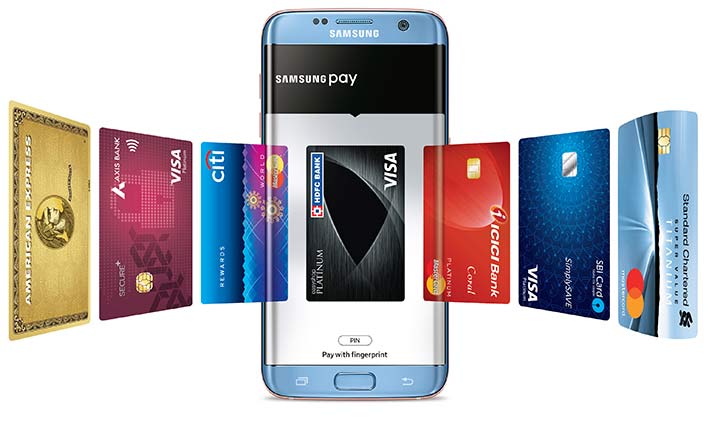 The Samsung Pay is now official in India, the first mobile payment service in India. It is partnered with Visa, MasterCard and American Express for payment gateways. It currently supports Axis Bank, HDFC Bank, ICICI Bank, SBI Cards and Standard Chartered Bank cards, Citibank will be added soon in the list.
Samsung Pay has Paytm integration also that with which you can pay by scanning QR codes securely, generating one-time codes for merchant payments and can do peer to peer money transfers, as well as the government's Unified Payments Interface in the app.
Samsung Pay works with Samsung's patented Magnetic Secure Transmission (MST) technology as well as with Near Field Communication (NFC). MST replicates a card swipe by wirelessly transmitting magnetic waves from the supported Samsung device to a standard card reader.
Through MST, Samsung pay will work seamlessly on a majority of Point of Sale terminals in India. It has three levels of security—fingerprint authentication, card tokenization and Samsung's security platform Samsung KNOX.
How to pay through Samsung Pay,
Swipe up on an eligible Samsung Galaxy smartphone (Galaxy S7 edge, Galaxy S7, Galaxy Note 5, Galaxy S6 edge+, Galaxy A5 (2016), Galaxy A7 (2016), Galaxy A5 (2017) Galaxy A7 (2017), Gear S3
Select the card
Authenticate using a fingerprint or PIN
Bring the phone near the Point of Sale terminal

Mr. HC Hong, President and CEO, Samsung Southwest Asia, said,
[notification type="notification_info" ]"Samsung Pay is an example of how we continue to push the boundaries of innovations to make life simpler and better for consumers. I am confident Samsung Pay will redefine digital payments and contribute to Digital India."[/notification]

Mr. Thomas Ko, Global GM of Samsung Pay, said,
[notification type="notification_info" ]"When we launched Samsung Pay, our goal was to enable consumers across the globe to make payments that are simple, secure and accepted almost everywhere. Over the past year and a half, this vision has evolved into building a complete digital wallet solution, allowing customers worldwide to not only make payments but also use membership and transit cards, receive deals and rewards and more."[/notification]

Asim Warsi, Senior Vice President, Mobile Business, Samsung India, said,
[notification type="notification_info" ]Our insights show that convenience, security and acceptance are seen by consumers as the most important influencers when choosing among different digital payment options. With Samsung Pay, we give our consumers the smartest way to make digital transactions by far. Samsung Pay is highly secure through the signature KNOX Platform, fingerprint authentication and tokenization. We have partnered with major banks and card networks to give our consumers the widest range of choices, and are working on bringing more and more partners on board soon.[/notification]