Which Sennheiser headphone to pick 🙂
Headphones have always made listening to music and watching movies more pleasurable. With the feel of surround sound and the fact that it covers your ear completely means that you get to hear each and every bit of what you are listening to.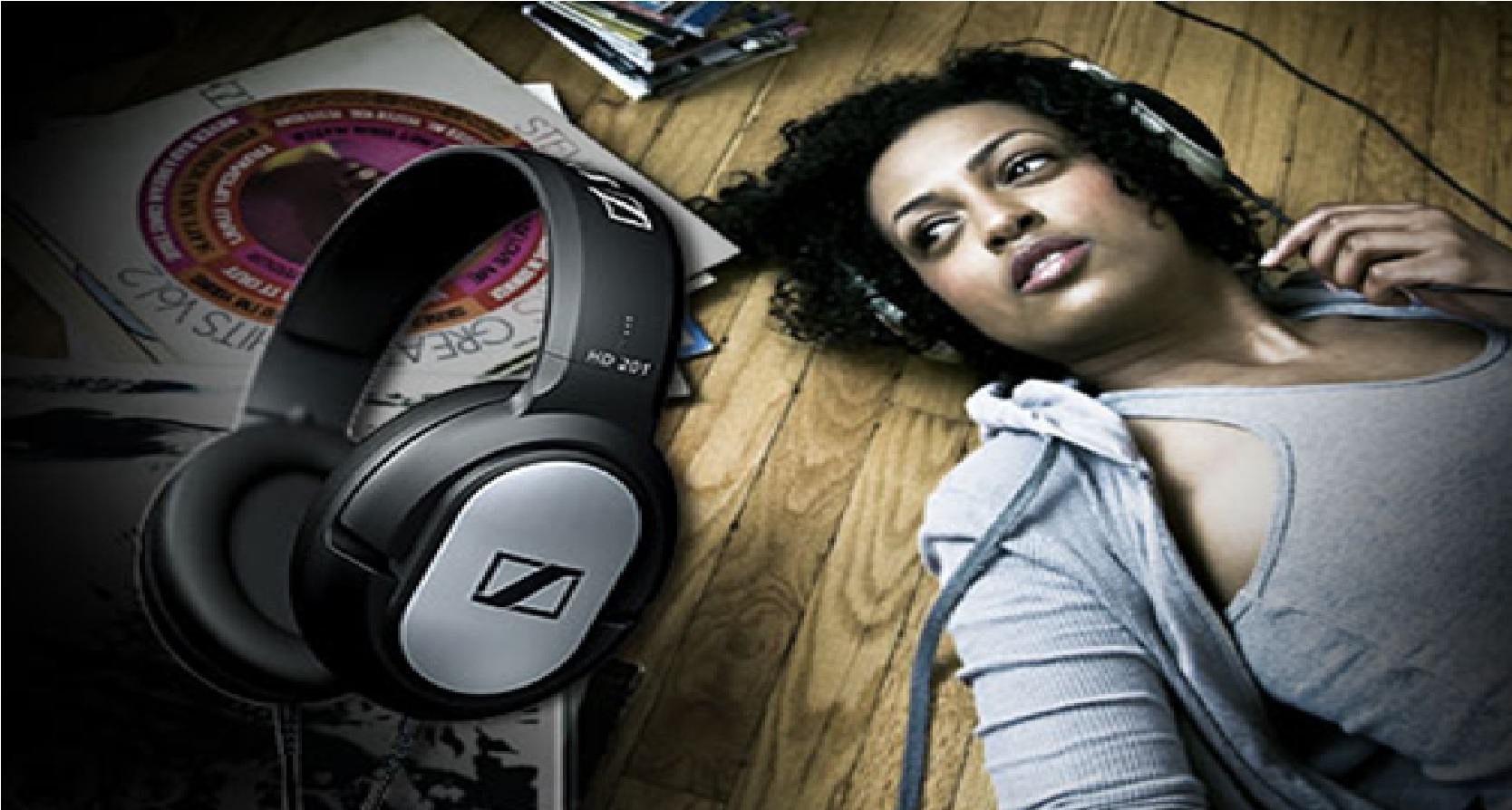 Sennheiser has some great headphones which are top of the line and very popular among it's buyers because it's of a great quality.
– Sennheiser HD 201 Wired Headphones: These are over-the-ear circum aural headphones. It has a 21 Hz- 18000 Hz frequency response. It's lightweight and it can withstand most harsh weather conditions. The ear pads reduce the ambient noise and make some powerful bass response.
– Sennheiser HD 203 Wired Headphones: These are wired On-the-Ear headphones for some easy listening. The ear cups adjusts well onto the contours of your head so they are comfy. There are two jacks that you can apply, the 6.3 mm and the 3.5 mm.
– Sennheiser HD 439 Wired Headphones: These are wired circumaural, over the head, closed headphones. It has 17 Hz- 22500 Hz headphone frequency response.
Sennheiser is a great value for money for headphones that will last long and give you great sound for a great length of time! So put your money on these Sennheiser headphones. If you shop in online sites like Flipkart, Amazon, Indiatimes, Ebay, Tradus you get some great competitive prices and discounts! And if you want more discounts, then check out dealstan.com and find a Sennheiser at your budget!
[author image="data:image/webp;base64,UklGRkYIAABXRUJQVlA4IDoIAACQJQCdASpbAEsAPm0qkkWkIqGWbK8YQAbEtgBgMPD/SegYwL3fzfKu/WPwlxrB1+y79157v7N+VXyU/OnsAfpn/k+pb5gP53/Uf+p/j/eo9D/+R9QD+5f6brM/QA8sj9ovg//bz9xfaSvEb8H0uvmf2A/HHNP/kPy3/mfuz30/CXQT/mX+C3zUAH5P/Rf+L3RnGh/6Xj+6AH5m9BLRO9Sewl+sH/BY3ACQtuu+eKl6kFhHdUBQfzWYLL+SsG4VWnM8WB33qYHT/3sK5p3SnS/xMrqPdxHsHOODk4JJ1vZ+tZ0Q9edLjDBVtX5jExrOXNkPOccbqc5Khky4rqewWtf7Z6t/KB5KbfV9NW6IPA9IWx1ITCwp9ijwBTnWExlTzvEHJwsjOsm+/t11DdYEGo7q2vV3uWAA/v/b5TEVEcnhTDSzJe81HI62YRm93IiQ78C3g/rKoGg3PnSnxXa+9DeKyIko+/TcHCqzldY9NITXwyYEnTzRflvRmt6K1yz4+PqR+G35gvTBtQckyI0KyYWlAOvyrp0plaMeuFiEpRMyVfhlgCkBQn2lyAsHVsc3hmUks8weerNTFghIpPfFb6CCDdGZ61RRINUaAXTKQnU1AZAnaND1ua0nD9ilhGxtJuAgJno/lgo0dDB/LqBFpBOvzusfn7xlTsfvUwF/P/MQ9OAYFS/aXVDMupVKc87gww39VPyqWsM1k8GZ5H8qzhf7NjfWWw48IOtzikrLj3yjzbAKJdc8R6NazW89Sef8/uW1U+YR73fdMslqdf7qdYwfHZ20+bzsj5hJHPKv4L9QYRx7ytzwbfkRu9vWqgYc8pywWDBgXMKIxp5sS53SNHLtIvoc7vM+N32vVlbJEIm78DygvRHoG4sbMmqlilXBqvNrIozBXKdnZSYUFoCFyqkFe8En3j4uRN1cEx3k1oFBXhfp/bqLP70qK0ZoOyFD4vRV9MMYXSlQFsBG+c1/Xw4sC36jSPABXmDxup7uIQenUtSqjoyba9SWGkoEUuh330aUsQmVsGQ7fmcKqXALzsAJBNE6VoUv8crEp91ZZoJ+fwy5aJ8rGIF8ZGsSUCUHTzX+O4MxP1uGQkJys1BmZv6sVRhULLb8MJSzkfkYnaaYpNM4WEqKq2cqz8cLZdyvxV5tvfCy4f0J+y6MHB9p3VyvODzhobTVZBa0cM21tUjGHRx6aRYfPtHVvQAhv4wdUcEsf2YTY5OntO++iIfu74uRtE8adMQl94PCWWiQo3hZk2dac/ONVB4mtXUkShfyl6KGtEB2pFy8HZPhYIEwGoiewV3jf/QG817zu5w9ZLI6L5r+FuHmbkDvj3vBsC7DendJ6n8/Jfm95NkRFv7+TNME9WfvyHK1YQe2Wlrj9jjh7Ks5FN7exTjidf83TSyM3/5PWxK/pm7N9EEjYqHe63bi55eaWHl0qfSrCndch+vXuUxwWjOISVuWG04Vj9KDpz8q7rVuyOPzIKUKH1oNdUTgUgo4IaV7/x+y9MIq7qO1QJPubiU5V4ZQd+MNuo+lCXxS5QMRroYBZTNG3qh5x0R7aHrAFljv4rTnUTk82TUdEUdSPb/85SBX+uVnZoJrABeG8UaBXcTpvZKk/LRJj299gHbvVD9I35i/5UYY9UCfsIWox9d+G9h8csiuv/30Jk+jSm+vFbX0ZJDHdPf906xwAuQOul6fKWJPkiugDwDpPw5TIoxbkUcqG1tKc7UZtKC9cnqxGbyaxwvBpKugNaUq9Y/dNvoi+Ov2TVXl840JjtQmsareJa1/pgGncdIycm699V4nuKdEwzDyjDHXn+fzssk/n8aiqbC7iq7zrP3QrlWBy98LZUKf3zyx7XkWvJ5Udw4XQRCAs8MdEHz/QZ/Hufo9r+P+FVbTX2PKkLYOGHSkn4cFFADLsJKHxa/mKED8nWwBrMAf6TBlBvrqR5izQ1Nt2mKbre5yx/8qMMeoVP8MSSscNP8iP+/GVpdI5fq4fX6xHB+NQ+Rvvo28mD+DaaFabd0VeLdupldRKhB+CGpIcZljhUXk6MGW+UfUjv4Tllo0yf/eYqwEDu02R+pYF7tjP+bkOxjM9y1ttEXYX6vF+NpX3Yen/t1KWbF6K0vVwBWrDYzkgFxuoa6LRq58C/LqNR9O1/ctm0E8M0H+1KLeWmel8YaHIsae3WXt/2MfULb0fS9H/RjFfxjRt6ehVlpdtoduVK+ENlx2RQRWpb8x0xMIHpj6XpuMGY0ogPcUijPcvQcgBDvOC8xKXVzepABB7OnuZ3OIuG+frY20dG6gmAVf/4l8QHqhdDHH9n/tOBT6cBCa6QiGKb822Iq5qQQndKenlIcqcqXcnvaLthTpM+6gbdPDPQ01mJtWTpf+OQoE86zV85Y7tVUbsvR6gsSC/xyewVQg9HBYwXxxtMJksHjT/2hG0v1CpUOeuqxYzrd9DpWJG4kyqv/ogZUldi8vcEY9kN9HPlAQg3l5s+HneZPNIRgtKw995JjrueNJwtf8RruSzNxjzNR6VOW4Hwzu/Th1qlrO60wm+yTcXGxASrbjkjTBXr0djQEro7D6GGX3Zj3pDgQQ5YpuubYrK315aX7BPT5ZWyWkpUV/IauhLtCp5K9bfo3gB8/5nBwYAWTJqkGEixc716b6HW9R/iniBnemA+e/k88YZ+wJ201ynYA7vt7/aRqtcWfvEfvLzoQRsvKIIBNsS3nZGMTo1iRtHeFVPiqR2sW5rS2/YXMnRzzn1poLbbfhbV+9wZvwUtIaEjopOH6DiIa5yylJF2cIIAEcsZlCNjmM4rWcwZTpqVoiyOAAAAA=" ]Maryanne Pais is a student of Christ University, pursuing an Undergraduate degree in Psychology, Sociology and English. With a penchant for online shopping, she works with content marketing team at Dealstan[/author]