Stream your music, video and live media on the big screen!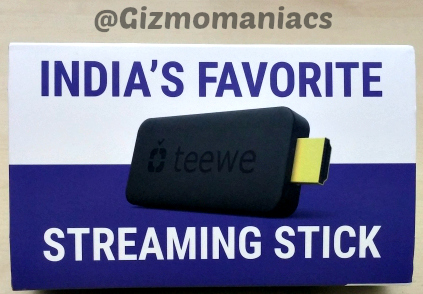 Teewe2 an enhanced version of Teewe has been launched in the market. This is a USB-like device with an HDMI port that connects to your TV and offers you media-streaming kind of service via the local wireless network. The company which has designed this new product is Mango man. If you have a bunch of movies downloaded on your laptop or if you want to get your phone connected to a bigger screen via internet this device is a good option.
Design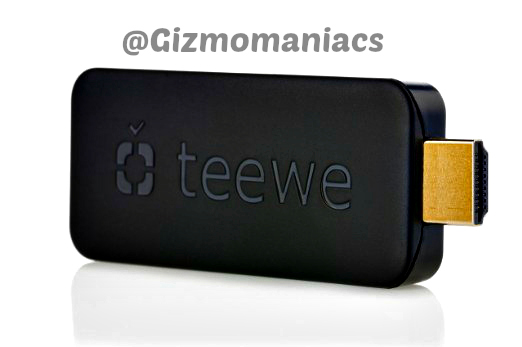 One of the obvious changes made in Teewe2 is it is much sleeker and even smaller than the Chromecast by Google. It is rectangular in shape with a tiny and discreet block etched logo side by side. The dongle, which goes into your TV's HDMI port, is powered via the Micro-USB port, so if your TV has a USB port, you can simply connect the two. Else it also has a power adaptor with which it can be connected to power socket as well. It also has a HDMI cable which can be a source of connection between the Dongle and the TV.
Setup
Setting up the Teewe 2 is pretty easy. To set it up, you need a Wi-Fi network, a smartphone or tablet, and the Teewe 2. First, connect the Teewe 2 to the television, and power it up. Then you'll see lighting flash on the Teewe2. This signals that the connection was successful between the Teewe2 and your TV. Locate your Wi-Fi network, select it and now you're TV becomes smarter than you ever thought it could be. If you're using an Android phone – download the app, and it automatically detects the Teewe 2 dongle. It then prompts you to connect to it, enter your Wi-Fi password. The teewe2 is now connected.
Features
In Teewe 2 you can see a home page with a wide selection of content from YouTube. Scroll down and you can see locally stored media as well which means you can play media from tapping it on your phone or you can send a song, a movie, or a picture.
The Teewe app automatically scans your device to locate all the media on it and then allows you to play media in one tap. Also, the Teewe app also curates YouTube content that you might want to watch, such as Indian TV shows, movies, or songs. This obviously needs Internet access to work. Teewe 2 also comes with a two month subscription for Eros.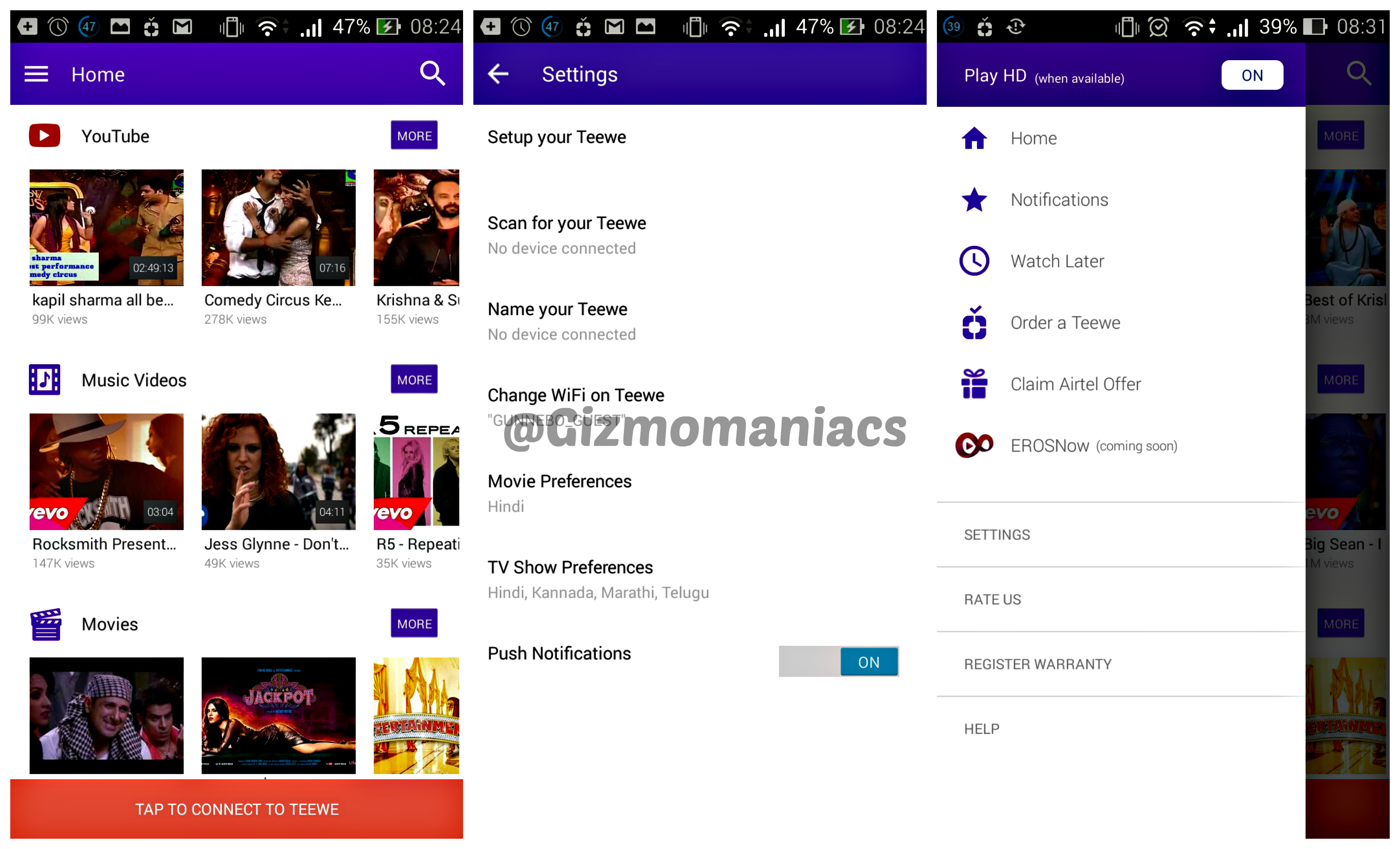 While on the laptop it can be used by installing a Teewe Chrome extension, which can be used to send videos from a supported webpage to the Teewe 2 dongle. Also, it gives you an advantage of mirroring the entire image on the TV. (Not supported on phones)
This can also be used to play content from your laptop on your other devices. Suppose you've got Teewe installed on your laptop, which is full of movies. If you want to watch them on your Android phone, you can just stream it through the Teewe app; in this scenario, the dongle doesn't even need to be powered up.
Performance
The Teewe2 dongle is powered with a dual core ARM Cortex-A9 processor clocked at 1.6GHz; a quad-core GPU; 1GB of RAM, and Wi-Fi 802.11 b/g/n support. It can be connected to any TV with an HDMI port. The dongle itself works without a hitch, however if the internet connection is not fast it can give you a hard time. YouTube playback was not upto the expectation at 2MBPS however while working on a dedicated line of 8 MBPS it worked a little smooth. The local media on the other hand was flawless.
The Teewe 2 played all the video files stored without a glitch, these videos include a number of 720p and full HD videos including .avi, .mp4, and .mkv. However, it did not support the 4G hotspot when we tried to connect the device to 4G.
Like all other apps the teewe app is also not free from bugs. There were times when the app didn't perform well. However, all we had to do was restart the application and it worked fine.
Price
The Teewe 2 is now available on Amazon.in. The dongle is priced at Rs. 2,399, and comes with 20GB of data per month free for three months on Airtel broadband, and two months of free Eros Now.
Verdict
The Teewe 2 is a beautiful looking device and the price is highly reasonable. It does all that it sets out to do very effectively as well. It's also gave a wonderful experience better than that of Teewe. The app has improved, the setup has been simplified a lot, and the hardware has also been refined.
If you're on Android, the app can locate all your media and stream it easily, while it gives a hard time to iOS user.
If you've have anumber of files (movies or videos ) on your android based phone or may be on laptop and you need to play it on big screen, then the Teewe 2 makes it incredibly simple to find what you want and play. There's no additional third-party software to download – just the Teewe app. If you've downloaded a bunch of shows and movies and want to easily share them to your television screen, then it doesn't get simpler than the Teewe 2.