Internet and the uses in coming years!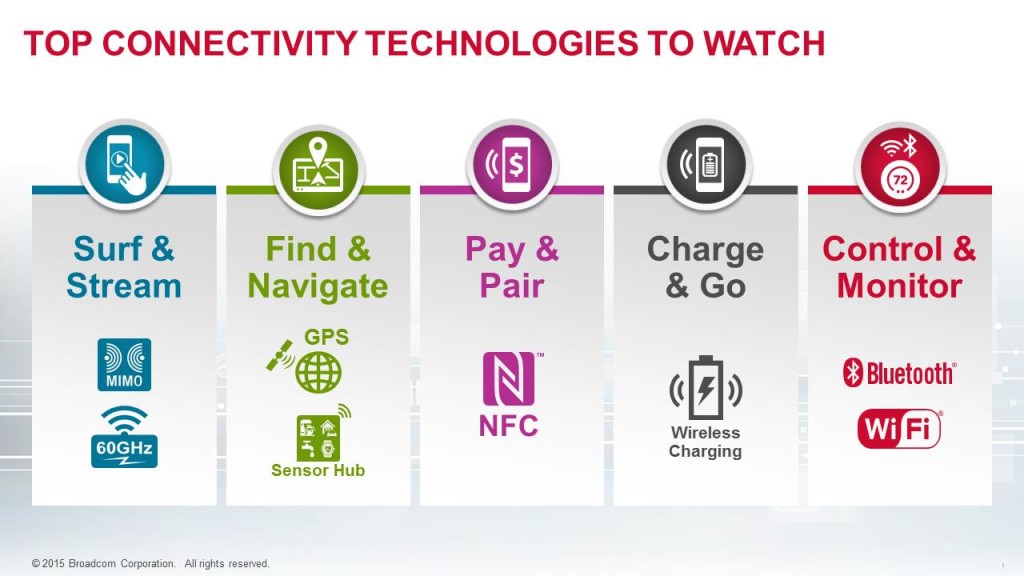 The internet of things (IoT) is expanding its reach to nearly every aspect of modern life.
Let's take a closer look at five emerging connectivity technologies in 2015.
The Next Generation of Surf & Stream Capabilities: 802.11ac and 802.11ad Wi-Fi
To meet the growing needs of Indian market, two technologies namely wireless technologies – 802.11ac in the 5 GHz band and 802.11ad in the 60 GHz band enables surf and stream capabilities. Wireless 802.11ac enables to stream a media from a handset to a TV, high speed and reduction in signal fading.
Also, double the processing and download times on laptop and tablets using MIMO transmission.
The 802.11ad gives a wide bandwidth of 60 Ghz and the data rates up to 7 gigabits per second. With such a massive power,  it enables HD downloads in seconds. seamless transitions from 802.11ac Wi-Fi and inherent characteristics that enable a myriad of devices including radar-based gesture recognition and seamless connectivity between mobile devices.
Find & Navigate through GNSS and Sensor Hub Technologies
According to a survey,  72 percent of surveyed online adults ages 18 and older in India currently using wearable technology in their personal lives.
However, the technology is not that apt. the fitness bands and trackers, watches and other wearables won't work if the data isn't accurate. And simply relying on GPS or a GNSS receiver alone to calculate routes and running speed won't guarantee this accuracy.
By combining together the technologies we can work together to more accurate tracking od data. When the sensor hub, GNSS, Bluetooth Smart, and Wi-Fi technologies, combines, wearable devices will have the ability to deliver highly accurate results and it can track wether the runner is outdoor or on a trademill.
Cutting the Cord with Charge & Go Resonant Wireless Charging
Now a days charging on the go is common and it will become more important than ever, when the public Wi-Fi hotspots will come in picture. Wireless charging will allow the users to charge their devices without a cable. This will save time and the difficulty of being tangles in the cables.
With the help of a transmitter antenna, the resonant wireless technology will enable you to transfer power through non-metallic surfaces. Now, even small devices such as wearables and headsets can connect with the charging source.
Pay & Pair with Tap-to-Connect NFC
NFC is the new buzz since few years, all you need to do is tap two NFC enbled devices and share the data.
The new product using such technology is cars. NFC's tap-to-connect feature eliminates complicated set-up procedures. This seamless communication between smartphones, cars, portable speakers and television provides an easier, more personalized experience.
Control & Monitor: Wave 2 Wi-Fi and Bluetooth Smart
The brilliant combination of 802.11ac Wave 2 Wi-Fi and Bluetooth® Smart is going to improve the ability to monitor IoT applications. It may be at home or at a much larger level. Significantly affecting India's manufacturing industry and overall speed of business.