Amazon with new Kindle Tablets!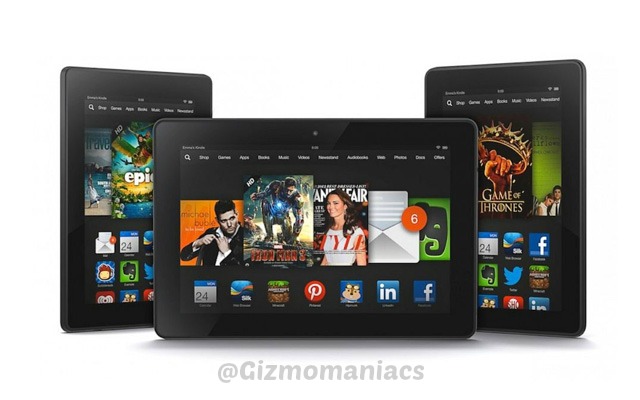 Amazon unveils next generation Kindle Fire tablets, The Kindle Fire HDX which are lighter and faster than previous ones. The new tablets, one with 7 inch screen and other with 8 inch screen are advanced version of Kindle Fire HD and having highest resolution screen than others in the market.
They come with a new feature called 'Mayday'! If the user has any kind of difficulty in operating the device then a customer service representative can provide live support via a small video window, tech-support representative will explain new features or troubleshoot problems or they may take control remotely and help you out.
The new Kindle Fire comes with upgraded hardware specification Kindle Fire HDX 7 tablet comes with 7 inch display with 1920×1200 pixels resolution and 323ppi pixel density and other one has 8.9 inch display with 2560×1600 pixels resolution and 339ppi pixel density. The Kindle Fire HDX 7 has only a front facing HD camera whereas the bigger one comes with a front facing HD camera and an 8MP rear one.
Both the tablets come with 2.2 GHz which is slightly equal to a laptop processor speed and there processor is quad core Snapdragon 800 with 2GB RAM  runs in new Fire OS 3.0 based on Android Jelly Bean and comes in 16GB/32GB/64GB storage capacity.
Price and availability
The smaller Kindle Fire HD approximately start at Rs15000/- and bigger one at Rs24000/-, both are 16GB Wi-Fi model simultaneously. Smaller one will be available in October while the bigger one will be out in November. 4G for both will be available later this year and would cost extra Rs6500/- approx.
Both the models have an entry level basic model also with 8GB. Its price is not declared yet but it would be slightly less than that of the older one which is approximately Rs12000/-.
Specifications  are
Kindle Fire HDX 7 tablet
Processor: 2.2GHz quad core Snapdragon 800
Screen: 7-inch with 1920×1200 pixels resolution and 323ppi pixel density
RAM: 2GB
Camera: HD front facing
OS: Fire OS 3.0 based on Android Jelly Bean
Memory: 16GB/32GB/64GB internal
 Kindle Fire HDX 8.9 tablet
Processor: 2.2GHz quad core Snapdragon 800
Screen: 8.9-inch with 2560×1600 pixels resolution and 339ppi pixel density
RAM: 2GB
Camera: 8MP rear camera and HD front facing
OS: Fire OS 3.0 based on Android Jelly Bean
Memory: 16GB/32GB/64GB internal